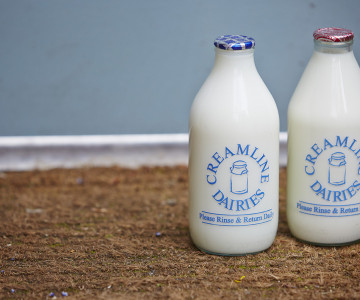 Wheeey, it's World Milk Day!
World Milk Day is a big day for us here at Creamline, so in today's blog post we've got loads of fun facts, information about milk around the world and more.
World Milk Day was first established by the Food and Agriculture Organisation (FAO) which are part of the UN. The day seeks to highlight that milk is a very important source of nutrition to many different cultures and nations all around the world. Since its introduction in 2011 by FAO, World Milk Day celebrations have spread to many new areas and last year over 40 countries put on events to mark the day.
Milk – Fast Facts
We love educating people all about the benefits of drinking milk and we get a great reception at all the primary schools we visit to spread the message about nutrition.
·        Packed with Protein – milk has got loads of protein in it: providing the building blocks for creating new muscle and repairing injuries.
·        Crammed with Calcium – milk is famous for its calcium content and for good reason: just two good sized glasses of milk will fulfil the entire daily calcium requirements for most people.
·        Loaded with Nutrients – there are a lot of different vitamins found in milk; including Vitamin A, B1, B2, B12 and D. It doesn't stop there though, it also contains nutrients like potassium and magnesium, plus all nine of the amino acids essential for humans.
Milk Around the World
Milk is enjoyed right across the world, here are some facts about how different parts of the globe enjoy their milk:
·        Sweden and Iceland are officially the two nations were milk is enjoyed the most. Europe as a whole likes its milk; with Turkey, Germany, France and UK all falling within the top ten list of biggest milk producing nations.
·        As a region, Central Americans love their milk too – with Costa Rica standing out as a big milk drinking nation.
·        Milk production is on the up – across the world, milk production has risen considerably with a rise of 50% recorded in the three decades from 1973 to 2013.
Here's to raising your glass for World Milk Day!
Share This
Related Posts