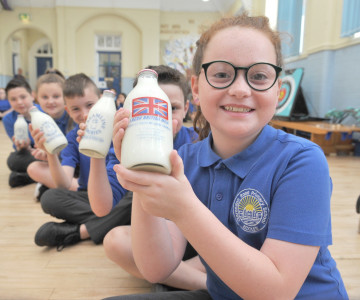 Hooray for World School Milk Day!
For obvious reasons, World School Milk Day is one of the most significant days of the year for us here at Creamline! Held today to celebrate both the benefits of milk and the success of school programmes around the world, we're big believers at Creamline of the nutritional importance of milk for children. For example, a carton of milk can provide a 4-6-year-old with 52% of their recommended calcium intake – and the entirety of their recommended B12 intake!
The tradition of school milk is long established and has an interesting history. Schemes were brought in to provide for needy and malnourished poorer children back in the early 1900s – and after the World Wars, malnutrition was a widespread concern in the UK.
Glass Is Greener
When it comes to school milk, it's something we're working hard on here at Creamline as part of our Glass Is Greener campaign. Since its launch, we have delivered over 21 million glass milk bottles to doorsteps in and around Greater Manchester saving a whopping 380 tonnes of plastic from landfill – heavy stuff!
As the next step of our campaign we launched our school glass bottle scheme, encouraging schools in the region to make the switch too. With a huge 1 million plastic bottles used each week on milk breaks, the average school could save up to 38,000 plastic bottles from going to waste by joining the scheme. Over the last couple of months we've seen lots more schools make the switch, which is fantastic news!
This World Milk Day, if your school would like to join the scheme, please contact Andy Partington on [email protected] or 0161 835 3311.
Share This
Related Posts