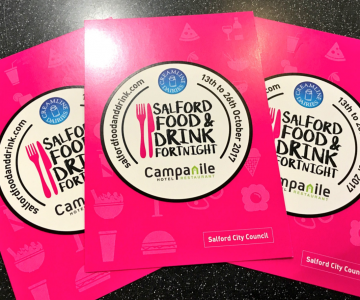 We hope you're hungry! It's Salford Food and Drink Fortnight
The fabulous Salford Food and Drink Fortnight is back for its 13th year! Proceedings will be kicking off from this Friday 13th, until the 26th October, showcasing the culinary delights of Salford and the local area.
Creamline is proud to be a sponsor, as it's all about supporting the local food industry, something which is important to us. Cheshire farms provide all our milk, and we get all our fruit and veg fresh from the local Smithfield market in Manchester.
The Fortnight promises to be a fantastic celebration of what the area has to offer, with plenty of events for the whole family to enjoy.
The stars of Salford
Across the fortnight, there will be various ways to get involved and celebrate the food and drink heroes of Salford! With plenty of events, competitions and offers to be enjoyed, there's no excuse for not indulging yourself.
This year there are a huge range of activities and events to sink your teeth into! Here are our suggestions:
·         Peel Park Fire Garden – a magical evening for the whole family to launch the food and drink fortnight, with food and drink offerings from local suppliers.
·         The Independent Salford Beer Festival – back for its 4th year, expect music from local bands, and beer from local brewers!
·         An October Forage with a local foraging expert – enjoy a walk around Duke's Drive and surrounding woodland, hunting out edible delights and finding out how to use them.
Work up an appetite
If all this foodie frivolity has left you chomping at the bit, why not try some of the recipes from our website. You could try whipping up a Spanish omelette, or really test your skills with a crème brûlée.
And with your taste buds tingling in anticipation, get involved using the #SalfordFoodDrink hash tag on social media, and spread the word about your favourite food and drink experience in Salford. There's even a prize up for grabs, so get tweeting!
Keep up to date on the Salford Food and Drink Fortnight here.
Share This
Related Posts