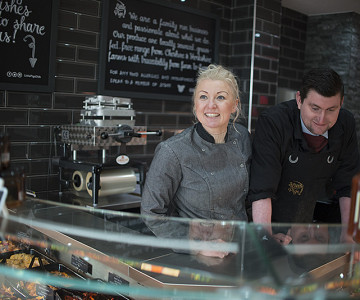 We're celebrating British Food Fortnight
Here at Creamline, we've been delivering local produce to Manchester communities for 75 years, so we're big fans of the annual British Food Fortnight, which begins tomorrow, Saturday 19 September.
Following the 2001 foot and mouth crisis, Alexia Robinson (the festival's founder) wanted to motivate the public to buy British food though a fun national celebration to encourage people to actively seek out British food when they were shopping. The festival was a success from day one and 19 years later is still the leading national event championing British food.
As is now customary for 2020 events, this year's festival will be an online affair with organisers capturing the spirit and fun of a food festival through cookery demonstrations, celebrity chefs, talks from leading people in the food world, nutritional advice, KidZone, food stalls, The Great British Food Fortnight Debate and more! Head to the Love British Food website to find out what's happening.
If this talk of tasty British food has got your mouth watering, remember you can choose quality local produce from our Best of Local collection, which includes expertly prepared meat from Didsbury's Little Pigs butchers, freshly baked bread and sweet treats from Thatcher's bakery in Stockport and beautiful fish sourced exclusively for Creamline. Head to our website to shop the full range.
We've just reduced our Best of Local order times, too, so you can now order normally by 9pm two days before you chosen delivery date or by 9pm on a Friday for a Monday delivery.
Share This
Related Posts