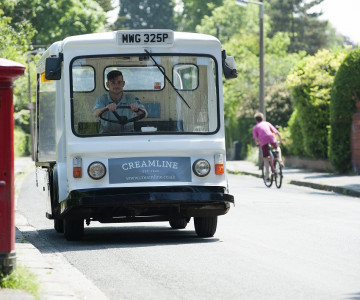 TURN THAT FROWN UPSIDE DOWN
If you didn't know, 18th January (or the third Monday in January) has cheerily been nicknamed Blue Monday in recent years. The idea is that this is calculated to be the most depressing day of the year – there are even some scientific looking formulas behind it.
However, we're not convinced that a national mood can be statically forecast like this. That's not to say that we can't always do with a bit of cheering up at this time of year. After all, the weather is freezing and Christmas is now nothing more than an increasingly unhealthy looking brown tree, left abandoned in the garden.
To bring a bit of happiness back into your lives, we've covered a few recipes: so you stay tucked away from the elements – in the protective warmth of the kitchen!
BREAKFAST
Porridge Pick Me Up
Ahh porridge, some of the simplest things in life are the best. There's nothing that will set you up for the day like a hearty bowl of porridge – packed with complex carbs, it'll supply you with the slow release energy that will see you through to lunch.
Plain porridge can get a bit boring on its own though, so if you still want that oat-powered-energy boost with something that looks a bit more exciting than a bowl of wallpaper paste, then check out this link for some ways to add a bit of flavour (and a few vitamins) to your breakfast fix.
Lunchtime Remedies
It doesn't get much more comforting than a warm bowl of thick soup on a winter's day. That's why for this lunchtime remedy, we've got a bowl of soup that's so thick – you could stand your spoon in it. Okay, okay – so maybe it's not quite that thick but it is delicious and, even better, it's made out of the sweet winter vegetable: the parsnip. See here for our spicy parsnip soup recipe.
Teatime Treats
Our evening meal is so comforting and cosy that it would give a long stint in a big padded armchair next to a roaring fireplace a run for its money. Our teatime recipe is a potato, leek and bacon gratin. It's got the perfect balance of textures – oozing with molten cheddar cheese in its centre and topped with a layer of lightly grilled leeks to give it just the right amount of crunch.
We hope these recipes keep your week a little cheerier, and if you want to see any of our other recipes then just head over to the Creamline recipe section.
Share This
Related Posts