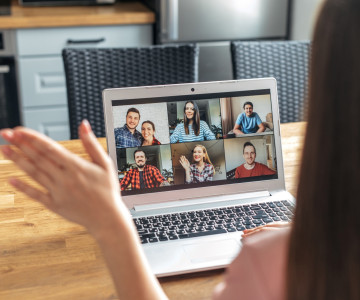 Five things that have got us through lockdown
Even the most optimistic of us would admit that the last seven weeks has taken a certain amount of adjusting to. Frankly, our lives have been turned upside down! As we adapt to what is being called the 'new normal', we look at five things we've been grateful for. 
1. Virtual socialising 

With social activities from Friday night at the local pub to family get-togethers, birthday parties and weddings all cancelled, we've turned to online socialising to keep in touch with friends and family. From group chats to virtual quiz nights, hen dos and even murder mystery parties, we're still having fun together. The best bit? You can wear pyjama trousers to a party and no one will know!
2. Staying fit

Exercise is known to have huge physical and mental benefits at the best of times but during lockdown it has been even more important for wellbeing. Whether getting outside for a walk, run or cycle, or staying indoors to work out, a poll by Ipsos Mori has found that a quarter of people have actually upped their activity levels. Online classes have become popular with Body Coach Joe Wicks even setting a Guinness World Record after one of his daily 'PE' classes was watched by nearly a million people. Meanwhile, parents all over the country have expressed gratitude to him for filling half an hour of the home-schooling day!
3. Learning something new

It's not just our bodies that we've been keeping active, with many people taking the opportunity to learn new skills. Whether it's learning to paint, speak a new language or play an instrument, people have been using the extra time on their hands to try a host of new activities. We'll be a talented bunch when this is over!
4. Cooking, gardening and reading

Here are three activities we've all been guilty of saying we don't have time for as we rush from one part of our hectic lives to another. Lockdown has given us the time to enjoy cooking, gardening and reading - you only have to look at the sparse shelves in the home baking aisle of the supermarket to know that baking has taken off! After spending the day getting that garden under control you deserve to unwind with a good book and homemade treat, after all. 
If you're seeking inspiration, take a look at the cooking section of the Creamline website. 
5. Local food suppliers

During a time when shopping at supermarkets has been impossible for some and undesirable for others, more people have turned to local suppliers to get their essentials.
At Creamline our community has meant the world to us for 75 years and we're hoping that our deliveries have made a real difference to you at this difficult time.  
If you know a friend, neighbour or relative that would find a Creamline delivery helpful, then we'd really appreciate you recommending Creamline. We're adding to our delivery slots each day, to make sure fridges stay topped up with milk and cupboards are stocked. As we work towards the new normal, we'd love to see supporting local become the new normal for more people in Greater Manchester and Cheshire. 
Thank you for supporting local with us. 
Share This
Related Posts