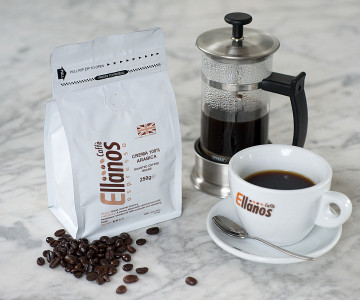 Our brew-tiful new tea and coffee range has launched
With our website refreshed and ready to go, along with our new and improved Best of Local service, you may have spotted our lovely new tea and coffee range by Didsbury-based Ellanos! We're offering everything from mint tea to decaf coffee. Read on to find out more…
Coffee-easy does it
It may come as no surprise to you that Britons drink more than 60 billion cups of tea a year. This love affair dates back to before the 1800s, first made popular by Queen consort Catherine of Braganza. Over the years, tea has become popular in Britain for many reasons, from tea breaks and afternoon tea traditions, to medicinal properties.
What may come as a surprise, however, is that coffee was here first! England's first coffee house opened in 1651, and over the years these became gathering places for intellectual discussions on anything from politics to literature. However, the coffee of the eighteenth-century would be quite different to what we have become accustomed to – often likened to ink, mud and soot. Thankfully not on the menu these days!
Fancy a cuppa?
Now if all this has left you thirsty for refreshment, look no further than Creamline. We have a huge range from Ellanos on offer, but here are just some of our highlights:
·         Cafetière-Filter coffee – great-tasting coffee for those bored of bland flavours.
·         Fruit Burst Tea – a vibrant burst of fruity berry flavours! Packed with fruit pieces and herbal goodness, this is a treat for both adults and kids.
·         Continental Coffee Sacks – don't have a filter machine? Not a problem with Ellanos coffee sacks – get the same delicious flavour without the hassle.
·         English Breakfast Tea – the classic cup of tea – a lovely blend of Indian Assam and Sri Lankan black teas, blended and packed right here in the UK.
For the full range head to our website here, and don't forget – 50% off Best of Local with the promo code, and next-day delivery if you order before 5pm! 
Share This
Related Posts