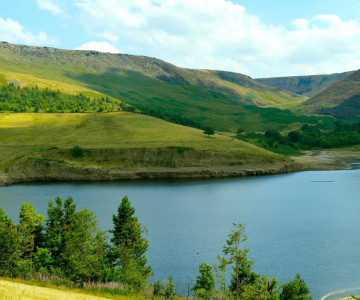 Top 3 Greater Manchester beauty spots to visit in August
As we approach the final month of summer, we've picked out our top three Greater Manchester beauty spots where you can make the most of the blooming August greenery! Read on for beautiful vista points, historical aqueducts and scenic walks, all situated in and around Greater Manchester.  
Strinesdale Reservoir
Strinesdale Reservoir sits between Rochdale and Oldham. Home to lots of wildlife (look out for the herons and kestrels!), the two reservoirs are surrounded by two colour coded woodland trails to hike on, grassy meadows and plenty of picturesque views. As our first pick, Strinesdale Reservoir isn't huge, making it the perfect spot for a casual scenic Sunday afternoon walk: the trail runs for just over a mile and takes around 30-45 minutes to finish.
Marple Locks
Stockport's Marple Locks is a more widely known spot in Greater Manchester thanks to its history and heritage. The beautiful Marple aqueduct was built in 1794 by Benjamin Outram, an English civil engineer, industrialist, and pioneer in the building of canals and tramways.
Over 200 years later, the aqueduct is still a sight to marvel and is a great family day out. With a 6.1-mile cycling route and a canoeing route, plus a flight of 16 locks which makes it one of the steepest flights in Britain to climb, there's plenty to keep you active. Afterwards, treat yourself to a picnic at lock 7. Our picnic delights range is brimming with yummy food from your favourite local producers. Take your pick of cheeses and chutneys from The Cheshire Cheese Company, sweet treats and baked goods from Thatchers and fresh fruit and veg handpicked from local markets to wind down your afternoon.
Horrocks Wood
If you're looking for the most stunning vista points within a stone's throw of Manchester, then we've saved the best 'til last! Open access paths situated within Horrocks Woods offer panoramic views reaching Jodrell Bank Observatory, Staffordshire and even Wales on a clear day – which is perfect for a sunny August day. Horrocks Wood is set within the foothills of Winter Hill and is best suited to long hikes so make sure bring on-the-go food to keep your energy up. Our granola, berry and cherry breakfast bars are perfect for bringing along on hikes – find the full recipe here.  
Share This
Related Posts