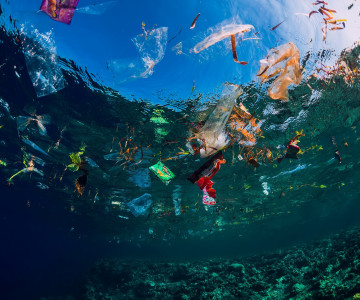 This National Marine Week Turn off the Plastic Tap
When is a week not a week? When it's National Marine Week! The Wildlife Trusts' nationwide celebration of marine life is a 15-day event (24th July – 8th August), to coincide with the tides across the UK. And with growing concerns around the health of our oceans, reducing plastic pollution is one of many important steps you can take, to help the marine environment thrive.
An estimated 12.2 million tonnes of plastic enter our seas every single year.
90% of seabirds have plastic in their stomachs. Globally, around 1 million seabirds die each year from ingestion or entanglement in plastics.
Only around 1% of the plastic in our seas shows up on beaches. The rest is floating at sea or sunken to the seabed and breaks into smaller pieces, which are more easily eaten up by marine creatures.
Take the plunge, switch to glass bottles for a week-long trial
Making major life changes can often be daunting but making the switch from plastic bottles to glass bottles is a small change that collectively can make a big difference. From Creamline's cow's milk to orange juice and the fresh oat drink Oato, Creamline's range of glass bottled products is growing! You'll be surprised by how many plastic bottles the average home and business accumulates without noticing, so making the switch is an easy way to reduce your plastic pollution count.
In fact, in the last 12 months alone we've filled a whopping 21 MILLION reusable glass bottles with fresh Cheshire milk. That's a lot of plastic saved from landfill!
Commenting on Creamline's Glass is Greener campaign, Chris Swallow, joint managing director at Creamline, said: 'We've been proudly delivering glass milk bottles for over 75 years. It's something we've always been passionate about and with millions of tonnes of plastic entering our oceans and rivers each and every year, it's great to see the people of Manchester supporting this campaign so strongly. 'By switching to glass, you can help wave goodbye to single use plastics – heading back to traditional glass bottles, which are returnable and reusable for years to come.'
Share This
Related Posts