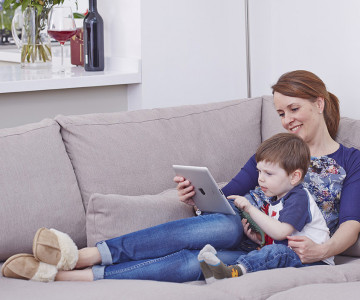 Taking things online: make the switch with Creamline!
We like to make things as easy as possible for our customers here at Creamline. As a traditional milk delivery service, we do offer the option to pay your roundsperson in cash – but it's much easier to manage your account online! If you're not sure how to do this though, you're in the right place.
With easy ordering at the click of a button, there are many advantages to being an online customer:
Managing your Creamline account is simpler and easier - including making payments using a debit or credit card – no more worries about having the correct cash ready!
With an online account, you can try out our Best of Local range. The latest addition to Creamline, these products are available via the website - delivering a handpicked selection of food from the local butcher, baker, fishmonger and more.
Heading on holiday? You can place your orders on hold with a few clicks of a button.
Great news - your orders will be delivered by the same friendly milkman.
Why not make the switch today? You can get started and sign up online here - don't forget to tick the box to say you are already an offline customer.
Once you've finished registering, we'll be in touch! If your existing offline orders don't instantly appear online, this is normal - a member of the Creamline team will be in touch after the switch to confirm your order details.
Make the switch today and see how easy it can be!
Share This
Related Posts