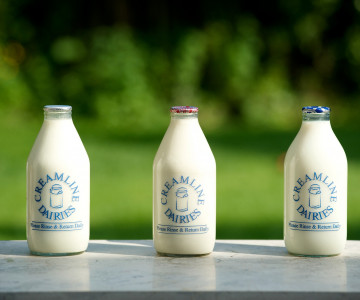 Make the switch for Plastic Free July
People all round the world are being encouraged to go plastic free for the month of July as part of a global initiative aimed at reducing single use plastic, #PlasticFreeJuly
Each year, 400 million tonnes of plastic is produced and a staggering 40% of that is single use, meaning it's only used once before ending up in the bin. The devastating impact of plastic waste on the environment has been well documented in the last few years. At Creamline we're committed to helping our customers reduce their plastic use so it couldn't be easier to kickstart your #PlasticFreeJuly with us!
Creamline's Plastic Free Pledge
With Creamline's Plastic Free Pledge, it's easy for our customers to choose plastic free products and wherever you spot our green Plastic Free Pledge icon, you can be confident that the items you've chosen are not packaged in plastic.
One of the easiest ways to get involved in Plastic Free July is by making the switch from plastic to glass bottles this month! Our milk glass bottles are reusable and topped off with recyclable foil lids, making them a fantastic eco-friendly alternative to the plastic bottles found in supermarkets.
It's not just milk in our plastic free aisle, though, you can also choose from our range of juices, fizzy drinks, water, fruit, vegetables and Ann Forshaw's luxury yoghurts, all completely plastic free!
Start your plastic free journey this July - take a look at our full range here!
Share This
Related Posts