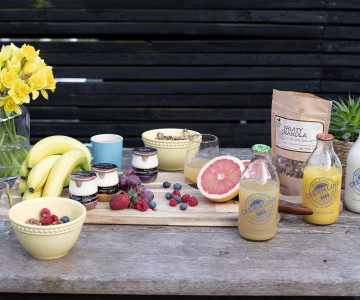 Make the most of early mornings with Creamline's al-fresco breakfasts
There's nothing quite like kickstarting your day with breakfast in the great outdoors! As a new addition to our summer living collection for 2022, we've got a host of fruits, yoghurts, granola and more to help fuel your mornings, al-fresco – and al-local! - style. Read on to get your tastebuds tingling…
Healthy and delicious
The Manchester sun beaming bright and early calls for a refreshing fruit salad. Luckily, we've got a cornucopia of fruit sourced fresh from local markets, including some summertime specialities…Think sliced up pineapple, grapefruit, mango and watermelon to kick in your tastebuds for the day while ticking off some of your 5-a-day!
Serve alongside Ann's Forshaw's farmhouse yoghurts and Thatchers nutty granola for a healthy and fibrous al-fresco breakfast.
Continental breakfast – sourced locally!
Indulge in a breakfast akin to the those served across the continent with our selection of locally sourced and lovingly baked pastries from Thatchers bakery. From pain au chocolat, to butter croissants and cinnamon Danish whirls, Thatchers' pastry treats are whipped up using only the richest ingredients before being baked until golden brown… who said you can't enjoy a luxurious holiday buffet breakfast from home?!
Sweeten your spread
While you're at it, why not call on Mrs Darlington to sweeten up your porridge or butter croissant? Mrs Darlington's award-winning jamsand marmalades are made to homemade recipes that remain unchanged after many years in the business – so while these jams are a delicious addition to your breakfast, they also contain no added colour or preservatives.
If you're a honey fan, you'll relish Haughton Honey. Hailing from Cheshire, Haughton Honey offer 100% pure English honey sourced from across the English countryside. It is cold-extracted to preserve the honeycomb. Compared to many commercially-processed honeys which use a lot of heat in the extraction process, thereby destroying the honeycomb, cold extraction protects the natural enzymes and protein in honey which gives it more flavour and a richer colour! Drizzle on top of yoghurts or oats and throw on some berries, then serve al-fresco!
Share This
Related Posts