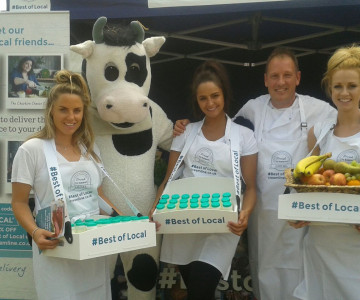 Sun, Fun and Food: Creamline at the Royal Cheshire Show 2017
We returned to the Cheshire Show this week and we've had a fantastic time. We couldn't have been luckier with the weather, even if our Creamline cow mascot found it a touch too toasty in his cow suit!
It was brilliant meeting everyone that headed over to the Creamline stand – whether they were taking a closer look at the new Best of Local range, or filling up on fresh Cheshire milk.
Fun for All the Family
There was loads going on at the Royal Cheshire Show, from farming displays to falconry shows. We were hosting chef Nigel Brown, who aside from cooking up a storm in our very own Creamline kitchen, also shared his expert cooking tips with the show attendees. Some of the fantastic dishes he demonstrated to the audience included: chargrilled chicken salad, BBQ lamb and lemon meringue roulade.
We gave away loads of summer treats to hungry visitors to our stall – they included delights like strawberry scones, smoothies and of course, our fun sized bottles of milk.
We had plenty of stuff on to make our younger visitors feel welcome too: our face-in-the-board created the background for hundreds of funny photos for visitors to keep as a souvenir.
If you made it down to the Cheshire Show, thanks for coming to meet us: we had an amazing time and we hope you did too. If you didn't manage to catch up with us this time, don't worry you have plenty of other chances to come and visit us at some of our other summer events.
We'll be at:
·        Bramhall Festival - 24th June
·        Beaver Road School Fair - 25th June
·        Hale Barns Carnival - 15th and 16th July
Share This
Related Posts