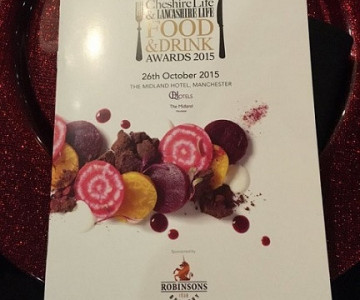 CREAMLINE CELEBRATES NORTH WEST TALENT AT THE CHESHIRE LIFE AWARDS
Eagle eyed visitors to our @CreamlineDairy Twitter page might have spotted that on Monday the Creamline team put on their finery and headed to this year's Cheshire Life Food and Drink Award. It was an absolutely fantastic evening, celebrating North West talent within the food and drink industry.
Though we live and breathe everything North West here at Creamline – every year we're still astounded by the quality and variety of the produce created here in the region that we're honoured to call home, which is why we were proud to sponsor the event for the second year running.
It was a great opportunity to meet with some of the most innovative minds in the food world, including the leading lights of restaurants, hotels, pubs and suppliers – the people behind the amazing food that makes the North West such a foodie hub.
As sponsors of the event we were lucky enough to present the award of Food Hero of the Year, so huge congratulations to restaurateur Tim Bacon from Living Ventures for his big win on the night and all the other winners.
So, here's to a massively successful awards and a big thank you to all those involved – whether attending or organising. We've got to admit, our mouths are already watering at the thought of next year's award ceremony!
Share This
Related Posts