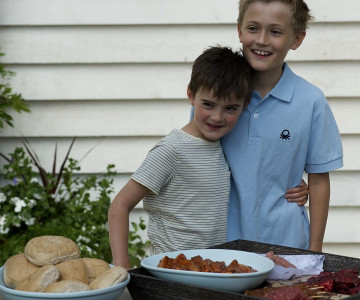 Summer Solstice: Come Rain or Shine!
When it comes to the recent weather, it's fair to say we've had a mixed bag. There has been sun, showers and everything in-between. However, regardless of the weather: the calendar doesn't change and we're only two weeks from the summer solstice. This marks the longest day, when the sun gets up at a spritely 4:30am and doesn't go to bed until 9:45pm: giving us a daylight for over 17 hours.

The summer solstice also marks the first day of the summer, so without further ado – we've got some tips on how to make the most of the long, warmer days.
Make Hay Whilst the Sun Shines
The summer is the perfect time for a BBQ, so read on for some tips on how to master your grill.
·        Light it up
Charcoal can take a while to get hot enough to cook, so it's a good idea to get your BBQ started before your guests arrive; rather than have them sit around waiting for it.
·        Stand by your BBQ
We recommend sticking close to the BBQ. It might seem like cooking is slow paced – especially at first but don't be tempted, as soon as you leave it unattended you'll come back to find ashen lumps where there was once food!
·        Make Time for Marinade
Unless your BBQ happens to be a spontaneous event, we recommend always marinating meat the day before. Marinating doesn't just flavour the meat: it tenderises it too. When it comes to cooking, be sure to rub off any additional marinade, as this can burn.
Brighten Up Your Day
When it comes to BBQs, we've got you covered on all the bases. We think you should be treasuring the sun and warm weather, not spending it drudging around the supermarket – all Creamline products will be delivered, direct to your doorstep.
The fundamental foundation of the BBQ is of course the charcoal: we sell 4kg bags of instant lighting charcoal, to save you doing the lifting. If you're having a smaller event, then why not think about getting a disposable BBQ: it's great value and it'll save cleaning it afterwards!
When it comes to the meat, we've got it all in the bag. We've developed a mouth-wateringly delicious range in partnership with our friends at Little Pigs butchers. We've got BBQ favourites like Cumberland sausages alongside some new head turning products like lamb & mint burgers and pre-made kebabs in a range of exotic flavours.
That's not to mention, we've got the bread and the salad ready too – for those all-important sides, that are often overlooked.
Happy cooking all: there's nothing better than good weather and good food!
Share This
Related Posts