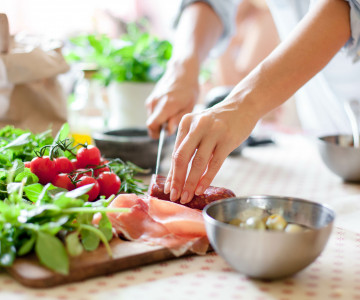 Stuck in a meal rut? How to rejuvenate your weekly menu
Research shows that more than half of us are 'stuck in a rut' when it comes to cooking meals, with 59% of Brits tending to rotate the same dishes every week*! People lead busy lives and a lack of time is one of the major constraints cited when it comes to cooking a wider variety of dishes. But with the winter nights drawing in, now is the perfect time to spend some quality time getting more creative in the kitchen.
Take time to explore new recipes
Allow yourself a little time to find your cooking inspiration – the perfect weekend chill-time task, if you ask us! If you want some inspiration, take a look at the Cooking section of our website where you'll find recipes from simple suppers to indulgent desserts, all using Creamline's ingredients.
Aim for one new dish a week
If you're struggling for time, cooking a new recipe every night of the week is not going to be achievable. Instead, challenge yourself to cook just one new thing each week. To help you, plan before you shop so you know exactly what you need before you place your order (our preference, of course!) or visit the supermarket. By setting yourself a realistic goal, you're more likely to be able to introduce new dishes into your weekly routine.
More Taste & Less Waste
You may be worrying that by introducing new meals into the mix you'll be running the risk of wasting leftover ingredients. We love this new More Taste & Less Waste cookbook from Dairy Diary, which shows you how to create delicious food whilst minimising food waste. Each delicious recipe has a stunning colour photograph, cook's tips and information on preparation, storage and freezing. Plus, boxes to write your own notes and tips on shopping and meal planning, storage and preparation and using up ingredients.
Try something new from Best of Local with £10 off
From expertly prepared meats to fabulously fresh fish and in-season fruit and veg, our Best of Local collection is bursting with quality ingredients that can give your mealtimes a delicious lift. At Creamline, we work with the finest local suppliers to bring quality local produce to your doorsteps. With £10 off when you spend £25, it's the perfect time to get yourself a taste of the Best of Local.
You can claim £10 off your next Best of Local order in three easy steps:
1. Choose your treats from our Best of Local range and add them to your basket.
2. When you're ready to checkout, enter the promotional code LOCAL10 – remember, your basket will need to be at £25 or more for the discount to apply!
3. Choose for delivery by 1st December – then put your feet up and we'll deliver your goodies straight to your door!
Ready to explore the range? Get started here.
Terms and conditions apply, see our website for more details.
*Source: KitchenAid UK & Ireland
Share This
Related Posts