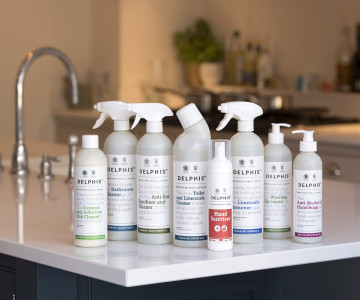 How to spring clean your kitchen and bathroom the sustainable way
Spring is the perfect time to freshen up your home and give it a good deep clean. But as our environmental consciousness grows, it's vital to take into account the impact of our cleaning habits on the planet. Many cleaning products that line the supermarket shelves contain ingredients that are harmful to the planet such as phosphorus, nitrogen and ammonia compounds, in addition to volatile organic compounds (VOCs): gases that are emitted into the air from products. However, with the help of environmentally friendly cleaning products such as Delphis Eco's range of kitchen and toilet cleaners, you can spruce up your home while minimising your environmental impact. In this blog, we'll be sharing tips and tricks on how to spring clean your bathroom and kitchen while also contributing to a healthier planet.
Freshen up your kitchen
As the weather gets warmer and you start stocking your fridges and pantries with new seasonal produce, it's the ideal time to reset and do some thorough cleaning in your kitchen. Start by stripping everything out of your pantry and wipe down the shelves with a damp cloth. Check expiration dates and dispose of any old or expired items that have been peskily hiding at the back of your pantry (including old spices which you may think never expire!). Get rid of dirt, dust and bacteria in cupboards and on surfaces with the help of Delphis Eco Anti-Bacterial Kitchen Sanitiser Spray for an effective general clean that's gentle on the planet and your skin.
Next take on tough stains and grime from your hob. Often, too much is heat is the culprit when you get burnt pan marks on an induction hob. Cleaning the surface of your hob every time you cook is the best way to prevent grimy deposits and burned food residues (and ensuring to dry it completely to prevent stains), but it's still easy to find these stains on your hob from time to time. For very stubborn stains, a paste of half baking soda and half water is your best bet. Apply the paste and scrub away with a non-abrasive pad – or an old toothbrush for burner heads and caps to really get in the nooks and crannies and achieve a full spring clean! For day-to-day maintenance of your hob, consider Delphis Eco Induction Hob Cleaner, a quick and easy solution for removing cooking stains from your hob and keeping your appliances sparkling clean for whipping up food.
When you're done spring cleaning your kitchen, this is the perfect chance for making it more eco-friendly! Start by reducing your plastic consumptions and opting for reusable alternatives like stainless steel straws, durable silicone food storage bags and glass containers for storing plastic-free produce. Take steps to reduce food waste by planning meals ahead of time and storing food properly to avoid spoilage. Check out our blog on reducing food waste here. These small, simple changes can go a long way towards creating a more eco-friendly kitchen and reducing your impact on the planet.
Green your bathroom cleaning routine
It's time to take on toilet grime and with the help of eco-friendly cleaning products, you can do it in a way that's kind to the planet and safe for your family and pets. Ensure you open a window or use a fan to ventilate the area and avoid inhaling fumes when you're deep cleaning, and wear gloves to protect your hands from chemicals. First, start by decluttering your bathroom to get rid of old toiletries and give yourself clear surfaces to clean. For cleaning surfaces such as countertops, sinks and toilets, try Delphis Eco Bathroom Spray, which is tough on dirt and grime but kind to the environment, free from chlorine bleach, hydrochloric acid, phosphonate, low in VOC's and readily biodegradable. Tackle tough stains and odours in the toilet bowl with Delphis Eco Toilet Cleaner with effective yet gentle environmentally friendly ingredients that give your toilet a deep clean without damaging the porcelain. It's easy for limescale to build up your bathroom, yet Delphis Eco Limescale Remover is the ideal solution for getting rid of stubborn patches on your showerhead, faucet and other bathroom fixtures.
Besides eco-friendly cleaning, there are other steps you can take to make your bathroom more environmentally friendly. Installing a low-flow shower head, ditching single-use shampoo and similar products for refillable containers (or bars!) and using responsibly sourced toilet papers are all great ways to make your bathroom more eco-friendly.
Share This
Related Posts