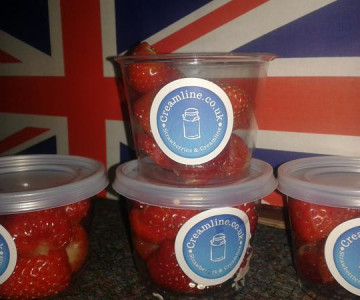 Strawberries and Creamline anyone?
Delighted that the weather has bucked up in time for a weekend of tennis!  Tickets are sold out @TheNorthernMCR  for Saturday 6th and Sunday 7th June, so hope you're among the lucky ones who've secured a seat.  All proceeds from sales of our scrummy strawberries will go straight into the coffers of the wonderful Francis House Children's Hospice.  Watch this space to find out how much we raise. 

In other news, Creamline is busily prepping for the Didsbury Festival on 13th June, which we're all looking forward to.  We've teamed up with our friends over at Didsbury's Giddy Goat Toys, to provide farm themed children's prizes for the fun games we have lined up.  Lots of surprises up our sleeves, but make sure you don't miss out on the Great Creamline Treasure Hunt.  Pop by our stand to find out more!

Share This
Related Posts