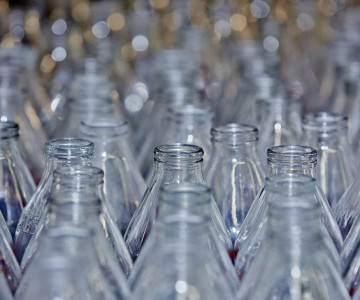 Step it Up this Recycle Week
The UK's flagship celebration of recycling is back, and more important than ever. Started by the sustainability charity Wrap back in 2003, Recycle Week reminds us that everyone can make a positive impact on the environment by recycling the right things, more often.

The theme of this year's Recycle Week is 'Step it up', which challenges all of us to commit to recycling more, and recycling better. At Creamline, we're passionate about reducing plastic waste and so, to help you step it up this Recycle Week, we've put together our tips on how to recycle more and reduce waste sent to landfill. 
Choose glass
Glass is 100% recyclable and can be reused repeatedly without losing its integrity. That's why we're proud to use glass bottles to package our fresh milk and delicious juices. From 2020 – 2021, we refilled 21 million glass bottles with fresh Cheshire milk, a figure we hope will grow each year. Switching to glass is one simple way to reduce plastic waste and increase the amount you recycle. 
Make the switch easily here.
Go plastic free
While a lot of plastic is recyclable, the UK currently recycles just 45% of the plastics we use.
As well as increasing the amount of plastic we recycle, we can also reduce waste by shopping plastic free. Under Creamline's Plastic Free Pledge, we're proud to offer a range of plastic free products in both our Daily Essentials and Best of Local shops. Whether it's milk, veg, or cheese, if you spot our green Plastic Free Pledge icon, you can be confident that the products you're buying are free from plastic packaging.
Shop our plastic free range here.
Can the food waste
The average UK household throws away 20% of the food they purchase. This food is sent to landfill where it decomposes and releases methane, a greenhouse gas that contributes to global warming.
Buying and eating food that is in season is one easy way to reduce the amount of food we throw away. For inspiration on how to use seasonal food, check out our range of recipes, created especially for Creamline.
From apple and cinnamon strudel to chunky beef, vegetable and sweet potato hot pot, our recipes can help you to create delicious dishes and reduce food waste.
Share This
Related Posts