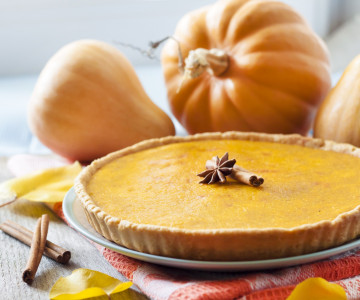 Recipe focus: Spiced Pear & Pumpkin Pie
Since 1621, Thanksgiving has been one of the most important celebrations for our neighbours across the pond. Over 46 million turkeys are eaten on the fourth Thursday of November each year and pumpkin pie is a non-negotiable dessert! Although more widely celebrated in the US than here in the UK, we're not ones to pass up an opportunity for a delicious pud.
Here is our original recipe for a Spiced Pear & Pumpkin Pie – it's easier than you might think and scrumptious served with a scoop of vanilla ice cream.
Ingredients
Serves: 8
200g pumpkin, peeled, de-seeded, steamed and pureed
3 conference pears, peeled, cored, steamed and pureed
30g dark brown soft sugar
¼ tsp ground cinnamon
½ tsp ground ginger
½ tsp ground nutmeg
¼ tsp ground cloves
30ml maple syrup
300ml whipping cream
1 tsp plain flour
3 free-range eggs
1 x 12" unbaked shortcrust pastry case
Method
Preheat the oven to 170°C.
Line a 12" flan ring or dish with shortcrust pastry and set to one side.
Combine the eggs, cream, maple syrup, all the dried spices and soft brown sugar together. Mix well and strain into a pouring jug.
When the pureed pumpkin and pear is cold, combine them together with the plain flour, then combine with the spiced egg custard mixture and mix well.
Pour the mixture into the pastry case and bake at 170°C for 30 minutes or until the centre is set.
Share This
Related Posts