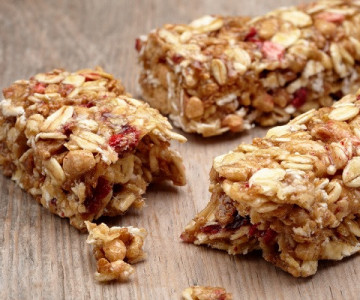 Recipe focus: Granola Breakfast Bars
With the school run back in full swing, many of us may be finding it difficult to squeeze in a healthy breakfast! Last week's blog post was packed with handy hints on school lunchboxes, so this week we thought we'd put one of our hero recipes under the spotlight: Granola, Berry and Cherry Breakfast bars.
Bake them up in batches and store them before the week ahead for the ultimate breakfast on-the-go.
Ingredients
150g unsalted butter
75g Muscovado sugar
3 tbsp clear honey
250g granola
150g mixed dried berries and cherries
50g hazelnuts, roasted and chopped


Method
1) Preheat the oven to 180°C.
2) Place the butter, sugar and honey in a medium-sized pan and heat gently, stirring occasionally, until the butter has melted and the sugar has dissolved.
3) Remove from the heat and stir in the granola, dried fruit and nuts.
4) Press the mixture into a lightly greased, rectangular, non-stick cake tin 20cm, 4cm deep) and bake in the oven for 15-20 minutes, or until golden brown.
5) Allow to cool in the tin for five minutes, then score lightly with a knife to make 12 bars.
6) Leave to cool completely in the tin before cutting and removing.

The breakfast bar can be stored in an airtight container for up to 5 days. 
Share This
Related Posts