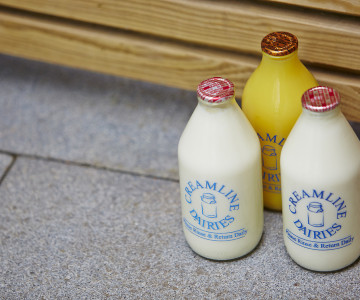 Snozzcumbers and Giant Peaches: Roald Dahl's Birthday Month
It's Roald Dahl's birthday on 13th September and all throughout this month, there are celebrations of his life and works. In this post, we'll be taking a closer look at this famous author's life and then we'll go on to explain how his books can be a great way to get kids involved in the kitchen.
So, without further ado, let's not gobblefunk around with words and instead learn more about the man himself then take a look at some inventive recipes to get kids excited about cooking…
The Man with the Golden Ticket…
Roald Dahl was born in 1916 during World War One– if he was still alive, this month would have marked his 101st birthday!
He was born to Norwegian parents, raised in South Wales and served in the RAF in the Second World War. He was well travelled, working in both Tanzania and Kenya. However, the reason for his enduring popularity is the bestselling legacy of his children's books – having sold more than 250 million copies worldwide!
Dahl's books are a great starting point to get kids interested in reading, with a whole cornucopia of different titles for different ages and abilities.
Perhaps a lesser-known fact about Dahl is that he was quite the cook himself – releasing a cookbook with traditional family recipes in 1991. Read on for some Dahl inspired ways to get your children cooking:
Revolting Recipes
·        A famous line from Dahl's cookbook went: "If I were a headmaster I would get rid of the history teacher and get a chocolate teacher instead" – why not take inspiration from this line, one that'll no doubt resonate with your own children and make a decadent Bruce Bogtrotter chocolate cake. Head over our online store to find some of the ingredients, including our local fresh free-range eggs.
·        Or try the equally tempting Wonka's Whipple-Scrumptious Fudgemallow Delight, using our locally-sourced double cream – As Grandpa George said in Charlie and the Chocolate Factory: "It's the best of the them all, you'll just love it!"
·        If after all this gluttony, you're looking for a healthier option; why not make a James and the Giant Peach themed addition to lunch? Try our fresh peaches: we can't promise they'll be as humungous as James' but they'll certainly be just as tasty. You could even try making healthy Fresh Peach Coolers – by blending together peaches and natural yoghurt.
Have a fantastic time creating some crodscollop flavours in the kitchen!
Share This
Related Posts