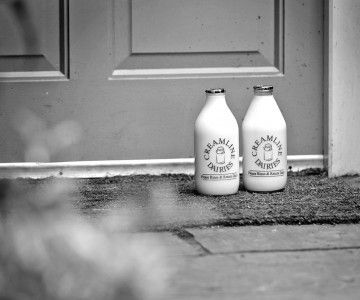 Celebrating Local and Community History Month
Perhaps a little-known event, Local and Community History Month is all about increasing awareness of local history and getting people interested in their past. As we're passionate about all things local, we thought we'd take part by exploring Creamline's history, and the history of our home in Trafford Park. Read on to find out more!
The history of Creamline's home
Trafford Park was originally the ancestral home of the De Trafford family, and was a beautiful stretch of park and farm land extending over 1183 acres, with the home of the De Trafford family standing as a grand hall with 40 bedrooms.
In 1882, proposals were put forward to build a large waterway running through the area, to be known as the Manchester Ship Canal. Sir Humphrey De Trafford opposed these proposals, as he was concerned about pollution affecting his parkland. His successor was more ruthless however! He sold off various parts of the land to the Ship Canal Company, and eventually the entirety of the land was sold in 1894 and became the property of Trafford Park Estates.
This company created Europe's very first purpose-built industrial estate, which was highly successful thanks to the Manchester Ship Canal, enabling the import and export of goods. Since then the history of the Park has been colourful; home to the first Ford factory outside of North America, and employing 75,000 people at its peak in 1945.
Creamline's past
It was during these peak years that Peter Roe founded Creamline. He initially supplied businesses in Trafford Park and Worsley, and recognising the potential in the growing doorstep delivery market, began canvassing furiously!
The business was acquired from the Roe family in 1994 by Tony Swallow – and these days, is run by his son Chris and son-in-law, Rob.
So, there you have it! The history of Creamline and our local area in a nutshell. If this has piqued your curiosity, why not head here for more ways to get involved this month?
Share This
Related Posts