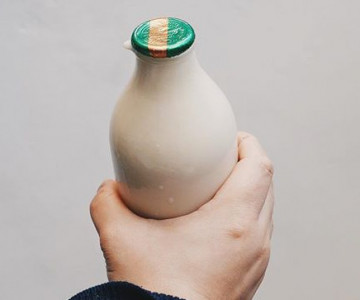 Share your ideas for our eco-friendly range
At Creamline we have a fantastic range of plastic-free products including, of course, our famous glass-bottled milk! We're always looking to expand our eco-friendly range and we'd love to hear your feedback on some of the ideas we've had for new products to add.

We'd be extremely grateful if you could take a minute to complete our short survey and let us know your thoughts on the kinds of products you'd be interested in ordering if they were available from Creamline in the future. While we can't promise whether or when we'll be able to expand our range, we hope to be able to add some new lines soon.
NEW! Glass-bottled oat milk now available to order
Did you know you can now order glass-bottled oat milk on our website? We've teamed up with Lancashire-based Oato to bring you a creamy and delicious alternative to cow's milk in reusable glass bottles.
Oato is great on cereal, in tea or coffee, used in cooking or even just to drink by itself. Made without any animal products, Oato is lactose free (as well as soy and nut free) and the oats used are a low impact crop, sourced from the UK.
Try Oato – order here
Share This
Related Posts