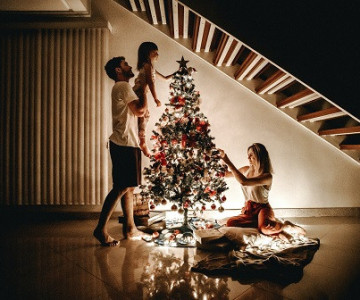 Oh, Christmas Tree! Share a snap of yours for the chance to win
One of our favourite parts of preparing for Christmas is decorating the tree, a tradition that spans countries and generations. But where did this tradition come from?

Well, according to historians, Christmas trees have been a staple of winter for far longer than many of us may think. Ancient Celts used branches of evergreen trees to decorate their homes during the winter solstice, as a reminder of the Spring to follow, while Romans decorated their temples with fir branches in December in honour of the god of agriculture, Saturn.*
Of course, this is a far cry from how we decorate Christmas trees today, which is believed to have been originated by Christians in 16th century Germany.* The tradition of decorating trees in the lead up to Christmas gradually spread across Europe but only took off in Britain during the 1840s, after Prince Albert brought a fir tree from Germany for Queen Victoria. Households across the country quickly followed suit, creating the Christmas tree tradition many of us practice to this day.*
Share a snap of your Christmas tree to win a Best of Local bundle for you and a friend!
While the warm, fuzzy feeling you get from decorating the Christmas tree should be enough, if you needed another reason to get the decorations out, our Christmas tree competition should do the trick!
By sharing a snap of your fabulously festive Christmas tree, you could win a fantastic Best of Local foodie bundle worth £50, plus one to gift to a friend! Here's how to enter:
1. Share a snap of your tree to Facebook, Twitter, or Instagram.
2. Tag Creamline and a friend you would like to gift the prize to.
It's as easy as that! The competition closes at midnight on 8th December. Ts & Cs apply.
*Article source: https://inews.co.uk/inews-lifestyle/christmas/why-do-we-have-christmas-trees-history-origins-tradition-explained-769274
Share This
Related Posts