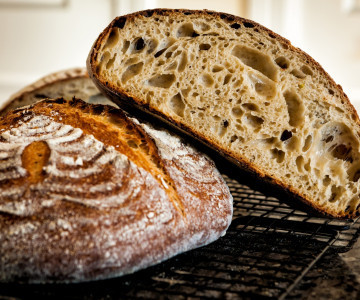 Salute the sourdough this September
September celebrates one of our favourite breads: sourdough. Founded by the charity Sustain, Sourdough September is part of the Real Bread campaign, which champions better bread to benefit farmers, communities, and the planet.

Made from a "starter" – a combination of water and flour containing naturally occurring yeasts and good bacteria – sourdough is one of the tastiest and most versatile loaves you can find. So, to join the celebrations, we've put together the reasons why we love the humble sourdough!
A slice of history
While breadmaking saw a rise (sorry!) in popularity during last year's lockdowns, people have been baking sourdough for hundreds of years. Historians have dated the practice of grinding wheat and cultivating yeast as far back as Ancient Egypt – thousands of years before the introduction of sliced bread in 1928!
Hearty and healthy
Research from Diabetes UK suggests that sourdough bread has a lower GI index than other bakes. Foods with a low GI index release energy slowly as you digest it, helping you to feel fuller for longer. This means adding sourdough to your diet can prevent you from snacking throughout the day, and could help lower your risk of health issues such as Type 2 diabetes or heart disease.
A challenge worth rising to
Taking a sourdough loaf from raw ingredients to baked perfection requires practice and patience, making it an excellent challenge for new and seasoned bakers alike. If you'd like to try your hand at baking a sourdough at home, this handy recipe from BBC Good Food takes you through all the steps you need from starter to serving.
Alternatively, if you'd like the convenience of fresh, local sourdough being delivered to your doorstep, look no further than our sourdough bloomer from Thatcher's family bakers in Stockport. 
Share This
Related Posts