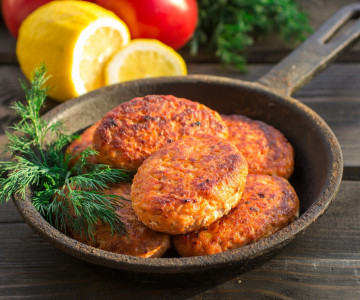 Recipe focus: Indian Fishcakes with Spicy Green Chutney
If you need an extra bit of heat this January, this recipe may be just what you're looking for! Featuring a delicious medley of herbs and spices, this fiery fishcake and punchy chutney combination is as warming as it is tasty.
Ingredients:
For the Fishcakes:
½ teaspoon cumin seeds
1 fresh green chilli, freshly minced
½ teaspoon of garam masala
2 slices of soaked white bread, crusts removed, and water squeezed out
A handful of fresh, chopped coriander leaves
A few sprigs of dill, chopped
Vegetable oil for frying
Salt
For the Chutney:
2 good handfuls of coriander leaves, stalks chopped
2 fresh chillies
1.25cm of ginger, scraped and chopped
Handful of chopped mint leaves
A good squeeze of lemon juice
Salt to taste
Method
Fish Cakes
As the loin is so fresh, the fish can be placed in an oven for 6 minutes at 180 degrees. No need for oil or seasoning. Then flake the fish and pat dry.
Mix dry fish with lemon juice and leave to infuse for 30 minutes.
Heat a frying pan and add the cumin seeds. Dry fry on a high heat. Fry until they change colour, then transfer to a mortar pestle or a blender and grind.
Add the crushed cumin, chilli and garam masala to the fish and season with salt.
Crumble the bread into a bowl with the dill and fish. Divide into 8 equal sized balls and flatten.
Heat oil in a large frying pan until hot. Then dust the fishcakes in flour and fry for 4 minutes on each side until golden.
Finally, drain on kitchen paper and serve with the chutney.
Chutney
Using a blender put the coriander, chillies, garlic, ginger, mint, onion, and a little water and blitz to form a fine paste.
Season to taste with salt and lemon juice. Store in an airtight container for up to 3 days.
Share This
Related Posts