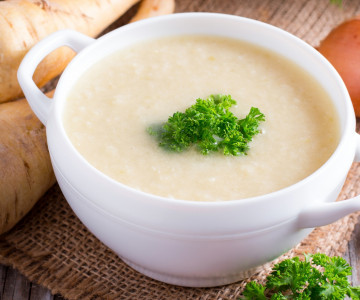 In-season recipe focus: Spicy Parsnip Soup
There are a range of benefits to eating seasonally: fresher, tastier veg and reduced food miles are just two reasons why you should consider planning your meals around the season's best!
This time of year is fantastic for delicious root veg, especially parsnips. And what better way to warm up on a chilly day (and use up any roast leftovers!) than with a deliciously hearty bowl of soup?
Here's our original recipe!
Ingredients
Serves: 4
30g butter
1 large onion, finely diced
2 large parsnips, peeled and diced
1 clove garlic, finely chopped
1l vegetable or chicken stock
2 tsp mild curry powder
100ml double cream
Salt & pepper
Paprika
Fresh coriander, chopped
Method
1) Melt the butter in a large saucepan over a medium heat.
2) Fry the diced onion in the butter until soft and then add the parsnips, garlic and curry powder.
3) Fry all the ingredients over a low heat for a couple of minutes to release the flavours, then add the stock to the pan and stir well.
4) Simmer the soup for 15 minutes until the parsnips are soft. Off the heat, blend the soup with a hand mixer or food processor until smooth.
5) Stir in the cream and season with salt and pepper.
6) Serve with a sprinkle of paprika and chopped coriander.
Share This
Related Posts