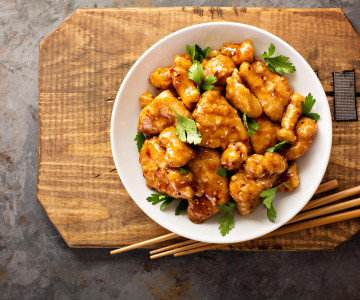 Chinese New Year recipe focus: sweet and sour chicken
On 22nd January, nearly two billion people worldwide will come together to celebrate the Chinese New Year, also known as the Lunar New Year or the Spring Festival. 2023 sees the ushering in of the Year of the Rabbit and saying goodbye to the Year of the Tiger. The last Year of the Rabbit was 2011 and in Chinese culture, the rabbit symbolizes luck, prosperity and peace, meaning 2023 is predicted to be a year of hope! If you're looking to celebrate in the city, you'll be excited to know that the legendary Dragon Parade is back after a two-year hiatus, plus plenty of live performances, foodie stalls and, of course, Manchester's famous red lanterns. Find the details and plan your celebrations here.
Food is an essential part of the two weeks of celebration for many communities across the world. Many dishes eaten such as spring rolls – bringing wealth and fortune in their resemblance to bars of gold -, changshou mian – "long-life noodles" which can be up to two feet long – and sweet rice balls, represent harmony, luck and unity. It's all about setting up the year for prosperity, and that also means excluding unlucky or negative words from your vocabulary during the Lunar New Year period!
Sweet and sour pork is another highly symbolic dish eaten during the Chinese New Year and, believe it or not, it's popular with families hoping for a lot of grandchildren – "sour" in Cantonese sounds much like the word for "grandchild"!
Though you may or may not be hoping for a lot of grandchildren this year (!), this sweet and sour chicken recipe is the perfect way to celebrate and welcome in the lucky Year of the Rabbit. Featuring the freshest chicken from Didsbury's Little Pigs butchers and a homemade sweet and sour sauce from scratch, it's a delight to craft in the kitchen.
Ingredients:
200g boneless and skinless chicken fillets (cut into bite-size cubes)
1 tablespoon rice vinegar
1 green pepper (seeds removed and cut into squares)
1 spring onion (cut into 2-inch lengths)
2 cloves garlic (finely chopped)
Oil for frying
Batter:
200g self-raising flour
200ml water
Sweet and Sour Sauce:
3 tablespoons ketchup
3 tablespoons chilli sauce
1 teaspoon plum sauce
1/2 teaspoon Lea and Perrins Worcestershire sauce
1/4 teaspoon rice vinegar
1/2 teaspoon oyster sauce
3 tablespoons water
1/2 teaspoon corn flower
3 dashes white pepper powder
2 tablespoons oil
Method:
1) Cut the chicken breast meat into bite-size cubes and marinate with 1 tablespoon of wine for 10 minutes.
2) Mix the batter in a bowl and add the chicken cubes into the batter. Mix the sweet and sour sauce in a small bowl and set aside.
3) Heat up the cooking oil in a wok and deep fry the chicken cubes. (Shake off the extra batter before frying).
4) Transfer the chicken out on a plate, lined with paper towels to soak up the excess oil. Transfer the cooking oil out and leave only 2 tablespoons of oil in the wok.
5) Add garlic and sauté until light brown, before then adding the green peppers. Stir-fry until you smell the aroma.
Share This
Related Posts