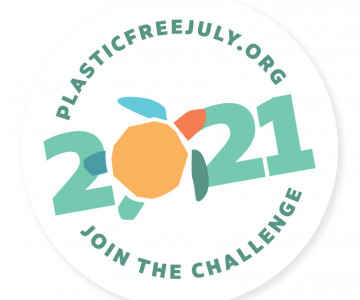 Ready to take the Plastic Free July challenge?
Are you ready to join the millions of people reducing their plastic waste? At Creamline it's a subject very close to our hearts, which is why we're proud to be supporting the Plastic Free July challenge.
Plastic Free July® is a global movement that helps millions of people be part of the solution to plastic pollution – so we can have cleaner streets, oceans, and beautiful communities.
At Creamline we've been on a mission to encourage the people of Greater Manchester and Cheshire to convert from single use plastic to traditional glass milk bottles. The launch of Creamline's 'Glass is Greener' environmental campaign has seen over 40 million glass bottles delivered to homes and businesses across Greater Manchester in the last 3 years alone – saving hundreds of tonnes of plastic from heading to local landfill.
In fact, last year we delivered over 20 million glass milk bottles – all 100% plastic free, recyclable and reusable.
And it doesn't stop there. To help our customers choose items that are 100% plastic free, head to our website and spot the Plastic Free Promise icon, helping you choose items not packaged in plastic. From potatoes and pineapples to apples and avocados, it'll help make plastic free shopping that bit easier.
Competition time!
Take the Plastic Free July challenge & send us a snap of your Creamline bottle. Whether you're already a proud fan of reusable glass bottles, or have made the switch this July – now is your chance to celebrate reducing plastic waste! We're giving one lucky Creamline customer the chance to win a hamper of delicious food and drink, all in 100% plastic free packaging.
To enter simply take a picture of your Creamline glass milk bottle delivery, using the hashtag #CreamlinePlasticFree and tag Creamline in – on either Twitter, Facebook or Instagram, with one winner to be chosen at the end of the month.*
Good luck!

*Ts and Cs apply.
 The set closing date for this prize draw is 31st July 2021. This may be altered by Creamline at any time.
Creamline reserves the right to withdraw the competition for any reason at any time or to suspend deliveries or any account or delivery location on the bases outlined in its terms and conditions generally.

The prize of a Creamline hamper will be awarded to one Creamline customer. Creamline will select the items to be included in the hamper.

This prize cannot be exchanged for any other items.

Individuals entering the competition must live within Creamline's delivery area.

When entering this competition, individuals should be aware that Creamline will publicly announce the winner's name via their social media platform. All address and delivery details will remain private.

Share This
Related Posts