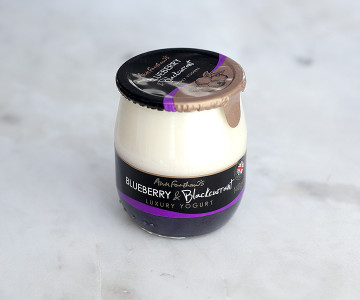 Another delicious addition to our plastic-free range!
The latest step in our mission to be greener at Creamline and encourage our customers to do the same – deliciously creamy yogurts in glass jars! Reducing our plastic packaging and bringing more reusable, recyclable options to our range is something that's really important to us, so these glass jars from Ann Forshaw's Dairy were the perfect choice.
Ann founded her dairy back in 1983, beginning her business with just a gallon of yogurt in her very own kitchen after attending a day course in yogurt-making at nearby Hutton College. The rest is history as the dairy has gone from strength to strength over the years – with one minor hiccup involving Ann jumping into a vat of yogurt after the paddle had broken!
The latest of Ann's creations are these deliciously creamy yogurts in recyclable glass jars. You can order from three mouthwatering flavours:
Strawberry & Rhubarb – a delicious fruity combination, this flavour is perfect during the summer months as a fruit salad topping.
Peach & Apricot – creamy and luxurious, peach is a winning yogurt flavour for good reason! Teamed with apricot for the perfect pairing.
Blueberry & Blackcurrant – beautifully autumnal flavours, fully loaded with deliciously juicy berries to make a seriously indulgent treat.
Head to our Best of Local Artisan Dairy section to view the full range of Ann Forshaw's yogurts with plenty more deliciously fruity flavours! Don't forget that you can enjoy free delivery on our Best of Local range when you order before 5pm. Udderly wonderful!
Share This
Related Posts