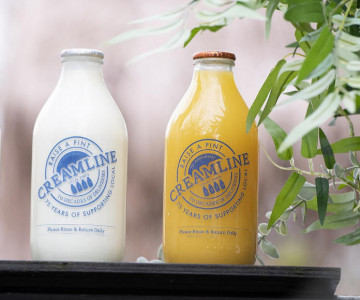 Are you ready to take the Plastic Free July challenge?
Have you been wanting to cut down on your plastic waste but not sure where to start with plastic creeping into all corners of life? Cue our Plastic Free July challenge!
Plastic Free July is a global movement encouraging over 100+ million participants in 190 countries to cut out single-use plastics and make a change in their homes, work, and schools. From packaged food and plastic bags, to straws, coffee cups, bin liners, takeaway utensils and even balloons (plus much more!), the Plastic Free Foundation has highlighted many plastics to avoid. To simplify the challenge, we've split July into four challenges that you can look forward to each week. Are you ready to get involved with the Plastic Free July challenge and adopt habits that'll stick with you beyond the end of the month? Read on!
Week 1 – Ditch the plastic bottles!
As you can expect from your local milk specialists, we first challenge you to cut out plastic milk bottles. Bringing in your milk delivery from the doorstep in the morning is one of life's little pleasures, and it can also make a real impact on the ocean plastic pollution crisis we are facing. Every year, 11 million tons of plastic waste enters our oceans and, by 2050, there could be more plastic than fish in the ocean (by weight). Sadly, it is estimated that 60% of all seabird species have eaten plastic, with that estimation expected to hit 99% by 2050.
With this ocean crisis on our hands, switching over to the endlessly recyclable glass bottle offers an easy (and nostalgically delightful!) solution to the 8 million pieces of plastic pollution finding their way to our oceans each day. While plastic milk bottles have become more recyclable over the years, with UK plastic milk bottles containing up to 40% recycled content, that pales in comparison to the infinitely recyclable glass bottle. Not to mention, if a plastic bottle is mistakenly placed in the wrong recycling bin, it can contaminate the whole load which means it often ends up in landfill anyway. Many people are now making the switch to traditional glass bottled milk delivery simply because it's much easier to ensure you're making the eco-friendly choice with our friendly milkmen taking care of returning and reusing the bottles.
Over the last 5 years, we have delivered over 100 million reusable glass bottles, which means a whopping 100 million pieces of plastic saved from ending up in our oceans or landfill. So, if you're already well acquainted with our glass-bottle milk deliveries, why not cut out plastic from your other favourite drinks? From glass-bottled orange, apple, or cranberry juice (among other flavours!) to chocolate, strawberry and banana milks, there's plenty to choose from for Plastic Free July.
Week 2 – Plastic-free produce is the way to go!
Heading into the second week of July, why not see how much food plastic packaging you can cut back on? Earlier this year, Food Waste Action Week drew attention to new research which debunks the idea that single-use plastic on fruit and veg helps prevent waste. They found that single-use plastic packaging makes little to no difference to their shelf life and often fools you into buying more than you need.
Single-use plastic is the most prevalent type of pollution found in the ocean according to the Deep-Sea Dive database. With recycling guidelines varying from product to product and lots of packaging not recyclable at all, sorting out plastic packaging post lunch or dinner can often be confusing and tedious. Ditching plastic packaging for your produce cuts through the confusion and means your wheelie bin sees no plastic waste.
Cut out unnecessary plastic use by going loose with your potatoes, peppers, apples, tomatoes and more. Along with millions of people worldwide, see how much it simplifies putting out the bins… Even if you're experimenting with just one food this July, you can draw inspiration from our plastic-free aisle HERE!
Next keep your eyes peeled for our second set of plastic-free challenges coming later this month…
Share This
Related Posts