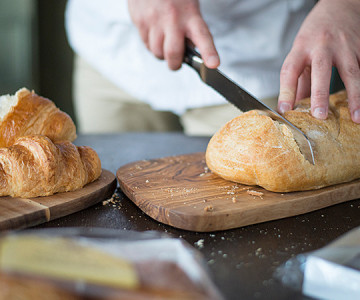 Products we're loafing this Real Bread Week
This Saturday marks the start of Real Bread Week, an annual international celebration of additive-free loaves and the people who make them.
The awareness campaign has been running for over ten years now, and aims to encourage people to buy from local, independent bakeries and even to bake their own real bread at home! It's no secret that here at Creamline we're passionate about supporting local, so there was no better opportunity than now to sing the praises of our fabulous supplier, Stockport's Thatcher's Bakery.
Now run by Ross, a fifth-generation Thatcher, the Bakery first opened its door way back in 1891 when it started life as a two-up, two-down house in Stockport. The original founders were William Thatcher and his wife Francis Anne, who had started baking pies in a domestic oven before their plans got bigger and better, converting their house into a general store. In the early 1970s they relocated to the premises Thatcher's still call home, sticking to their founders' Stockport roots.
Our Best of Local range
If you fancy ordering in a loaf of Thatcher's finest this Real Bread Week, you're in the right place. The expert bakers produce a wide range of deliciously fresh baked goods available to order from our Best of Local section.
But if it's just too difficult a choice to make, here are our top picks fresh from the Thatcher's oven:
• Oven Bottom Barm - thick and hearty oven bottom barms, with a golden mark where they were baked in the traditional way.
• Brioche Buns – these hand-crafted, light buttery buns can't be beaten when it comes to the perfect burger!
• Large Sourdough Bloomer – a wholesome, flavourful loaf, and a delicious alternative to conventional bread.
Share This
Related Posts