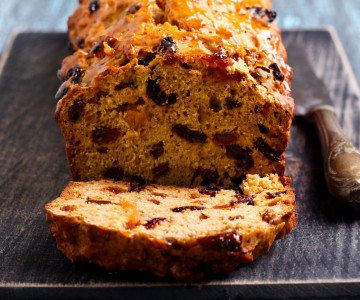 See off Winter with this Sultana, Orange & Cinnamon Fruit Bread recipe!
As the end of winter approaches, there's nothing quite like the comforting aroma of warm, freshly baked bread to lift our spirits and usher in the promise of spring. And what better way to celebrate the changing of the seasons than with a delicious sultana, orange, and cinnamon fruit bread recipe? This bread is packed with two classic winter ingredients, juicy sultanas and warming cinnamon spice, alongside the bright citrusy, springy notes of orange to welcome in the new season! Warm or cold, it's the perfect treat for breakfast or an afternoon snack. So, grab your apron and let's get baking! Don't forget to grab your fruits from our greengrocer range for freshly handpicked, local oranges to use in this recipe.
Ingredients
150g wholemeal flour
360g strong white bread flour
7g dried yeast
2g salt
3g grou
nd cinnamon
1 whole orange, juice and zest
150g sultanas
340ml water
Method
1) Combine the dry ingredients and orange zest in a large bowl.
2) Add the water and orange juice a little at a time, using spatula to mix the ingredients until you have a sticky dough.
3) Leave the dough to rise in a warm place until it has doubled in size.
4) Knead the dough on a floured surface and place it into a greased loaf tin. Leave the loaf to rise again until it has reached the top of the tin.

5) Bake at 230°C for approximately five minutes then 180°C for 30 minutes.

6) When the fruit loaf is cooked it will sound hollow if you gently tap the base of it.
7) Leave the loaf to cool for an hour or so before cutting.

For a tasty treat slice and toast the loaf and serve it with a little butter.
Share This
Related Posts