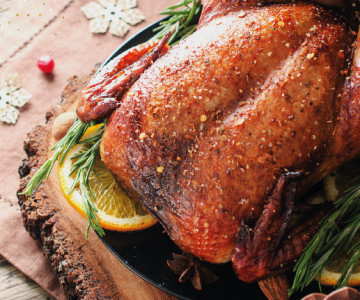 Perfecting the Christmas roast…with a little help from Little Pigs Didsbury!
It's fair to say that Didsbury's Little Pigs butchers know a thing or two about perfecting a Christmas roast. Whether it's classic turkey or a juicy beef joint, they've put together some of their tips and tricks to help you serve up a scrumptious feast this Christmas Day.
Some rules go for all roasts:
Remove your meat from the fridge around half an hour (an hour for turkey crowns) before cooking.
Before cooking, cover and leave on the side until your joint reaches room temperature.
After cooking, always rest your meat in a warm place before serving – cover with foil and allow the juices to re-absorb.
Depending on what you've ordered in for the big day, some specific rules apply…
Classic turkey crown
The roasting rules…
Baste your turkey regularly by spooning over the meat juices every 20 minutes – this step is really important!
The best way to check if your turkey is ready is with a meat thermometer – poultry should always be fully cooked through, at a temperature of 75°C, with juices running clear.
Perfectly cooked pork
The roasting rules…
For the best crackling, ensure the skin is thoroughly dry and rub in coarse salt after scoring.
Again, use a meat thermometer to check that your pork is fully cooked through to 75-80°C
Tip-top lamb and beef
The roasting rules…
Again, check with a meat thermometer at the thickest part of your joint to check it is cooked through. For a rare joint, the temperature should be 45-50°C, for well-done aim for 65-75°C.
We hope your Christmas feast is a huge success!
Share This
Related Posts