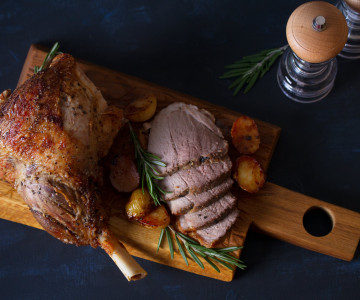 How to cook the perfect Easter Sunday roast: top tips from Little Pigs Didsbury
After two years of disrupted Easter plans, it's time to get the family together and celebrate properly and there's no better way to entertain your loved ones than with a succulent Easter Sunday roast!
We've spoken to the experts over at Didsbury's Little Pigs Butchers and got their top tips on how to perfect the prized lamb roast. Read on to discover how the meat maestros do it!
The roasting rules…
Allow 200-250g of raw meat per person when ordering a joint.
Remove your meat from the fridge 30 minutes before cooking. Cover and leave on the side until your joint reaches room temperature.
Preheat your oven to 200° fan / 390° F / Gas 6. When placing the lamb into the oven adjust the oven temperature straight away to the temperature mentioned below.
Always rest your meat in a warm place before serving. Cover with foil and allow the juices to be re-absorbed.
Get your cuts right
Little Pigs Didsbury have given us the low down on how to master specific lamb cuts, from leg to shoulder…
Rack (3-6 chops): Sear then cook for 10-20 minutes at 170°C fan / 340°F / Gas 4
Saddle (stuffed): 10-20 minutes per 450g/lb 200°C fan / 390°F / Gas 6
Leg (boneless): 20-25 minutes per 450g/lb 200°C fan / 390°F / Gas 6
Leg (carvery): 20-25 minutes per 450g/lb 190°C fan / 355°F / Gas 5
Shoulder: 45-55 minutes per 450g/lb 160°C fan / 330°F / Gas 3
When is it ready?
The best way to check if your meat is ready is by using a probe thermometer, placing it into the centre of the thickest part of your meat.
If you like your lamb rare, 45-50°C is the sweet spot. If you like it medium, aim for 55-60°C or 65-75°C for well-done lamb.
Don't forget the trimmings!
Your Easter Sunday roast isn't complete without all the trimmings. Spring over to our Easter fruit and veg aisle and explore our selection of seasonal fruit and veg sourced from the finest local markets to complete your Easter entertaining. Finally, bring your lamb together with Darlington's tangy mint sauce (this is included in our Half Leg of Lamb Special).
Remember to confirm your Easter orders by 9pm on Tuesday 12th April to receive your food in time for Easter weekend. Browse our entire Easter range here.
Share This
Related Posts