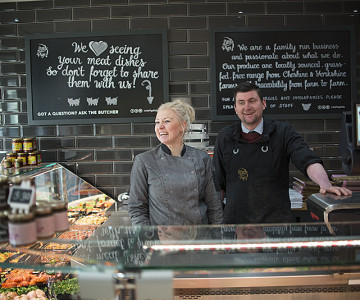 National Butchers' Week: Shout out to Little Pigs Didsbury!
At Creamline, we're constantly raising the steaks to ensure that quality is our prime concern- which is why Didsbury-based butchers, Little Pigs, and their endeavour to be the best - from locally sourcing the highest quality produce to being known for the best customer service - are the perfect fit for us. 
So, to celebrate this week dedicated to butchers all over the world, we're sharing our top three favourite things about good old-fashioned, local butchers: 
1. Quality. The meat from Little Pigs is locally sourced from nearby farms that rear only grass-fed, free-range animals. Knowing that the meat we source comes from a responsible, local supplier means we can guarantee that the produce we provide is only the freshest selection of prime grade cuts. 
2. Outlook and approach. Little Pig's ethos is a simple one: keep raising the bar in standards. 
3. Like Creamline, Little Pigs is a family run business. Owners, Rebecca and Sam grew up helping their parents run their local butchers' shop, which inspired them to set up Little Pigs. 
Here are just a few of our favourite products from our Little Pigs range, that are sure to go down a treat with your families too!
• Steaks – from fillet to rump to sirloin, Little Pigs have it all. Their cuts are premium quality – Rebecca recommends seasoning well, searing for two minutes on each side and leaving to rest.
• Bangers and bacon – expertly prepared, dry cured and smoked or streaky, Little Pigs' won't go bacon your heart! For the ultimate full English, choose from breakfast, cracked black pepper or Cumberland sausages.
• Freshly Prepared Meals –hand-prepared delectable dishes, packed with flavour – ideal for a quick and easy, delightful dinner.
With Creamline, you can reap the benefits of a local butcher without having to step a foot outside the house. Remember to get your orders in before 5pm for free next day delivery! 
Share This
Related Posts