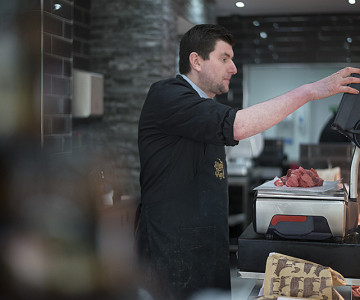 National Butcher's Week
National Butcher's Week is an event that's close to our hearts here at Creamline. A fantastic opportunity to try out your local butcher if you don't use them already, this is a celebration of great quality meat and the knowledge that comes with buying from an expert butcher.
Why shop local
If you're a meat-lover, there's no better place to buy than your local butcher's. Heading to your local shop means that your butcher can tell you exactly where your meat came from, and how the animals they source their meat from are raised. Butchers offer a fantastic selection of quality meat, that has been safely cut and stored, and a greater variety than you might find in the average supermarket.
Staying local means that you are directly supporting farmers and small business owners in your area – something we're very passionate about at Creamline.
Our local butchers
Our meat selection from local Little Pigs Didsbury is second to none. A family-run business, we are extremely proud to be working with them on our Best of Local produce. The Little Pigs team have decades of experience in butchery, and are extremely discerning when it comes to traceability and quality assurance.
From our Best of Local range, you can choose from prime sirloin steaks, to whole plump chickens, four different types of bacon and hand-prepared legs of lamb. Making meal times even easier and more delicious, Little Pigs have even developed ready-to-eat meals. Packed full of flavour, these are handmade using only the best locally-sourced meats. Choose from dishes such as beef chilli or pork tenderloin, all delivered fresh to your doorstep.
And Little Pigs' advice on how to cook that perfect sirloin steak? 'Make sure the pan is smoking hot. Season well, sear for 2 minutes on each side and leave to rest.'
Share This
Related Posts