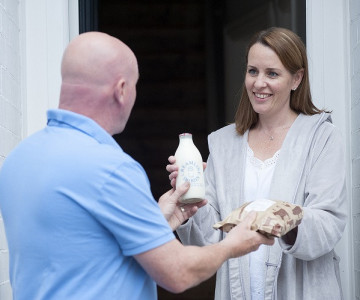 Mum's the Word at Creamline
On 6th March 2016, it will be Mothering Sunday (also known as Mother's Day). We've got some great treats, so whether you're cooking for your Mum, your Grandma or another mother you know that needs treating - then read on for some great ideas.
Why Mothering Sunday?                  
You may be curious as to where Mothering Sunday comes from or why it is celebrated when it is. Mothering Sunday is celebrated on the fourth Sunday in Lent – which is three weeks before Easter.
The origins of the event go right back to the sixteenth century when inhabitants of the British Isles would go back to their 'mother church' on the Sunday – this was either the church that the person was baptised in, the local Parish church of the nearest cathedral. The term for people making this visit was that they had gone 'a-mothering'.
The day later became a day of celebration, with servants given the day off to visit their mother church. It is here when it turned into a celebration for mothers, as servants would take their mothers with them to church. On the way to church, it became a tradition to pick wild flowers to give to mothers. From here, the tradition began to evolve into what it is today – a day of giving gifts and cooking for mothers.
Mother's Day Recipes from Luis Troyano (GBBO Finalist!)
If you fancy making something for a Mum – then you're in luck because we've got a brand new recipe section on the Creamline site featuring recipes from Luis Troyano.
Spanning sweet and savoury, the GBBO star offers tips and tricks to transform your usual bakes into impressive masterpieces, with a blueberry Bakewell tart, smoked salmon scone and a broad bean, pea and asparagus quiche making the shortlist.
You can view the whole section on the Creamline page here.
Last Delivery Dates Before Mothering Sunday
It's always better to stay one step ahead, so if you're planning on cooking up a storm on Sunday – then it pays to get it delivered in advance. Keep in mind that for Saturday delivery from Creamline, the last date you can order fruit & veg is 2nd March and the last date for all our convenience goods is 4th March. Have a great day and remember – Mum's the word!
Share This
Related Posts