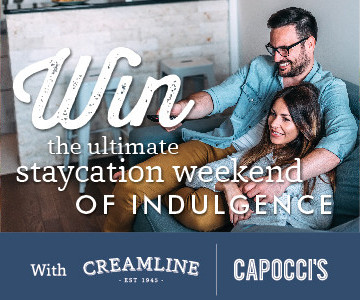 Win the ultimate staycation weekend of indulgence with Creamline and Capocci's
For Summer 2020, staycations are what's it's all about. A British break is lovely, and it's great to be on home turf. If you're missing that holiday-pampered feeling, though, you'll love the chance to win a weekend of being waited on. We've teamed up with Capocci's - our favourite local Italian takeaway - to do just that.
Capocci's is a close neighbour of our Trafford Park team, just a stone's throw away from our depot. Best-known for touring its authentic Italian pop up restaurants, delicious wood-fired pizzas, gelato and gnocchi the way Nonna makes it, are now available on Deliveroo and JustEat every Wednesday to Sunday, bringing the zest of an Italian trattoria to your home.
Bringing some much-needed relaxation to your stay-at-home-summer, we are treating three competition winners to a Friday night and Saturday morning of food deliveries, worth over £80.
What's on the prize-winning menu?
Friday night: Capocci's will deliver a delicious meal for two – straight to your door
- Two wood-fired pizzas
- Pizza style garlic bread
- Two Fentimans soft drinks
- Crumble di mele – a quirky take on apple crumble!
- A sharing pot of creamy, family-recipe gelato
Saturday morning: we'll deliver you a special Creamline Continental breakfast any boutique hotel would be proud of - handpicked from our Best of Local collection. The next best thing to room-service, we'll drop to your door:
- Two artisan croissants from local bakery, Thatcher's
- Two Thatcher's pains au chocolat
- Haughton runny honey: British honey from our favourite Cheshire-based producer
- Mrs Darlington's raspberry jam
- Four Ann Forshaw's luxury yoghurts in beautiful glass jars
- Worker Bee Ground Coffee
- Earl Grey tea
- Two glass bottles of our very own Cheshire milk
- Creamline glass-bottled orange juice
- A beautiful selection of fresh fruit
How to enter
For your chance to win, choose one of the below methods to enter:
Social media – head to our Facebook or Instagram where you'll find instructions on how to enter through social media
Email [email protected] and tell us who you'd like to share your staycation treat with and why!
Entries close at 11:59pm on Wednesday 5 August 2020.
Good luck!
Terms and conditions
Before entering our Creamline and Capocci's staycation weekend prize draw, please read the following terms and conditions carefully.
1.The Creamline and Capocci's staycation weekend prize draw is open to everyone who enters before 11:59pm on Wednesday 5 August through one of the entry methods specified on social media, or through emailing [email protected] with the name of the person they'd like to share a staycation with. The draw is open to participants aged 18 and over who live within Creamline's delivery catchment area, excluding employees of Creamline and Capocci's, and their immediate families. Only one entry per person will be considered.
2.Three winners will be chosen and will be notified by email or by social media, depending on their entry method. Creamline and Capocci's reserve the right to select alternative winners, in the event of reasonable efforts to contact the original winners being unsuccessful.
3. No cash or other alternative prizes are available, and the prize is not transferable. In the event of goods listed in the prize being unavailable, Creamline and Capocci's reserve the right to select suitable replacements. Delivery of the prize must be made to a property within Creamline's delivery catchment area. Entrants can check their postcode using Creamline's postcode checker.
4. The winner agrees not to sell, offer to sell or use the prize for any commercial or promotional purpose (including placing the prize on an internet auction site).
5. The name, town and photograph of the winners may be used by Creamline and Capocci's for post-event publicity purposes. The winner agrees to comply with a reasonable request to provide a photo of themselves with their prize and to allow Creamline and Capocci's to use their name and likeness for advertising and publicity purposes without additional remuneration.
6. Creamline and Capocci's reserve the right to withdraw or deactivate the competition for any reason at any time or to suspend deliveries or any account or delivery location on the bases outlined in its terms and conditions generally.
7. The set closing date for this promotion is 11:59pm on Wednesday 5 August 2020. This may be altered by Creamline and Capocci's at any time.
8. Entry implies acceptance of these terms and conditions.
9. Creamline and Capocci's will use the winner's, and each entrant's, personal details for the purpose of administering this promotion.
Share This
Related Posts