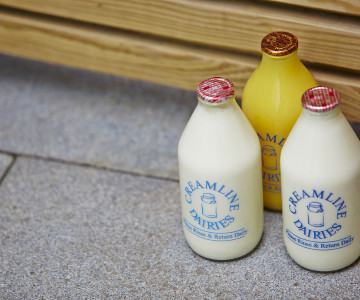 MILK: POWER FOR PARALYMPIANS
The Paralympics is certainly keeping the nation on the edge of our seats - brilliant to see Great Britain has surpassed their London 2012 total on just day seven of the Olympics. The seventh day of the Rio Paralympics saw nine golds, taking the tally to 43!  Wherever it goes from here, there's a fantastic result in the bag, but we're all keeping our fingers crossed that Team GB can keep up the great work until the end of the week.

Let's just hope the athletes aren't forgetting to drink their milk, as the white stuff could be their secret weapon when it comes to keeping up energy and performance levels. The Dairy Council's seminar "Recovering from Rio: an insight into performance nutrition at the Olympic velodrome track last week highlighted the importance of dairy in performance nutrition.  
An elite gathering of athletes and nutrition experts, the event discussed new research on milk and its role in muscle recovery after sport, with a presentation by Dr Emma Cockburn, Senior Lecturer in Sport and Exercise Science at Middlesex University.
Dr Cockburn said: "Milk is a beneficial recovery intervention from strenuous exercise particularly that involves an eccentric component in both males and females."
Three time Olympian Goldie Sayers and double Olympic gold medallist Philip Hindes MBE were also amongst the guest speakers, giving an insight into what nutrition means to athletes, its role in achieving peak performance and recovering from major sporting events. 
Goldie Sayers said: "Over the years I have learnt how important the correct nutrition is to increase strength and capacity. Milk and dairy foods are great at providing the right amount of carbohydrate and protein required to boost performance and recovery."
So, whatever your day involves – whether it's the school run, board meetings or training for a major sporting event – think milk to replenish your energy and help you stay at the top of your game.  Go Team GB! 
Share This
Related Posts