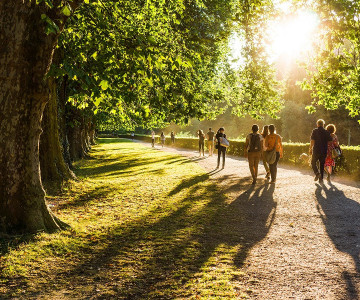 Making the most of sunny Manchester
The sun is shining, and summer is (nearly!) here. To help you make the most of the glorious weather, we've put together our favourite ways to enjoy the sun around Greater Manchester. 
A walk in the park
Simple as it may sound, getting out into nature is a great way to switch off, unwind and soak up the sun. Across Greater Manchester, we're spoilt for choice; from Heaton Park and Dunham Massey to Hare Hill and Fletcher Moss Gardens, there are countless lush and beautiful parks to get lost in on a sunny day.
Marking the day
From Stockport Market – which has been held in the same market hall since the 1860s – to the award-winning Altrincham Market, markets offer a shopping experience you won't find elsewhere.
We personally recommend the Makers Market, which is hosted every weekend at a different location across Greater Manchester. Stop by to find handmade soaps, gifts, baked goods and, if you're lucky, team Creamline!
On your bike!
Cycling is a fun, green way to get out and explore. Pedal alongside one of England's first man-made canals on The Bridgewater Way, or follow in the footsteps of Olympic medallists by taking the Fallowfield Loop all the way to the National Cycling Centre. For the more adventurous (and experienced) cyclist, the Pennine Bridleway offers views – and a cycle route – to take your breath away.
Keep cool
Whatever you decide to enjoy the warm weather, it's important to stay well-hydrated. For a range of flavourful and refreshing drinks, check out our online store. We'll deliver them straight to your door, so you can enjoy the sun without a second thought!
Share This
Related Posts