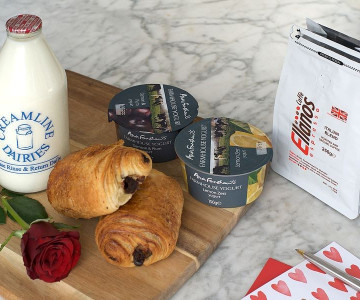 It must be love, love, love…
Valentine's Day – whether you're a fan or not, love is very much in the air at this time of year. But if you think we've got greetings card companies to thank for celebrating on the 14th, you would be mistaken!
There is a long history of the 14th February being associated with the amorous, starting in the 14th century with the tradition of courtly love. Geoffrey Chaucer was the first to associate Valentine's Day with romantic love, as it was believed to be around the time of birds' mating season – since then, references to the day have often appeared in romantic poetry and literature, until the present day where it is very much an established tradition! Celebrated all around the world, an estimated £1.6bn is spent on Valentine's Day each year here in the UK.
Treat someone you love to breakfast in bed…Delivered to your door by Creamline
If you're looking for something special for you and a loved one, look no further.
For limited time only, we've created a delicious breakfast in bed pack, complete with two freshly baked Thatcher's pain au chocolates, deliciously creamy Ann Forshaw yogurt for two, along with Ellanos ground coffee and a pint of Cheshire milk – so you can start your day in style.
Now there's no excuse not to love Valentine's Day – hurry and be sure to place your order here by Tuesday to be stocked up in time. 
Share This
Related Posts