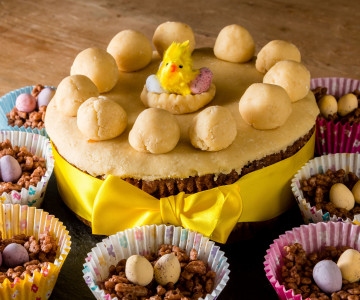 Bake your way into Easter with scrumptious Simnel cake, hot cross bun ice cream and carrot cake recipes
With Easter only a few days away, it's time to roll up your sleeves, put on your apron and get baking with these delicious baking recipes. From 'bun-believable' hot cross buns and festive Simnel cake to indulgent carrot cake, these recipes are sure to put a spring in your step and satisfy your sweet tooth. Let's get cracking and hop into this trio of tempting Easter bakes!
Simnel Cake
A traditional Easter spread isn't complete with a showstopping Simnel Cake. With a history that goes back to medieval Britain, this fruity spicy cake has satisfied palates for centuries! Our friends at The Cheshire Cookery School have provided their go-to method for mastering this classic cake.
Ingredients
100g glacé cherries
22g butter, softened
225g light muscovado sugar or brown sugar
4 large eggs
225g self-raising flour
225g sultanas
100g currants
50g chopped candied peel
2 lemons, grated zest only
2 tsp ground mixed spice
For the filling and topping
500g Marzipan
3 tbsp Apricot jam
Method
1.     Preheat the oven to 150 degrees C / 280F / gas 2.  Using baking parchment line the base and sides of a 20cm round deep cake tin.
2.     Cut the cherries into quarters (they can be rather sticky), add to a sieve and rinse under running water.  Drain VERY well and then dry using kitchen paper.
3.     Place the cherries in a bowl with the butter, sugar, eggs, self-raising flour, sultanas, currants, candied peel, lemon zest and mixed spice and beat well until thoroughly mixed.  Pour half of the mixture into the prepared tin.
4.     Take one-third of the marzipan and roll into balls.  Place these onto the top of the cake mixture.  Spoon the remaining cake mixture on top and smooth out the surface.
5.     Bake in the pre-heated oven for about 35-45 minutes, or until the mixture is well risen, evenly brown and firm to the touch.
6.     If the top is browning too quickly then cover with aluminium foil.  Leave to cool in the tin for 10 minutes.
7.     When the cake has cooled, brush the top with a little warmed apricot jam.  Roll out half of the remaining marzipan to fit the top of the cake.  Press firmly on the top and crimp the edges to decorate.
8.     Brush the marzipan with beaten egg and arrange the marzipan balls around the edge of the cake.  Brush the tops of the balls with the beaten egg and carefully place the cake under a hot grill until the top is lightly toasted.


Alternatively glaze using a blow torch!
Hot Cross Bun ice cream
Another Easter classic, hot cross buns also have a far-reaching history. The innovative 14th century monk, Thomas Rocliffe, is commonly credited as making the very first hot cross bun, mixing yeast with cinnamon and distributing his baked goods to those in need.
With this delicious delicacy, it's easy to buy or bake too many! But what do you do with your leftover buns? Whip them up into hot cross bun ice cream, of course! This inventive recipe is the perfect way to use up your leftover buns and help you cut down on food waste over the Easter weekend. Not to mention, with a sunny forecast for the Bank Holiday, there's no better way to ease into the warm weather.
Ingredients
4 eggs, separated
100g / 4oz caster sugar
300ml double cream
50g chocolate chips for extra richness should you choose!
Method
Tear up the hot cross buns into small pieces and place on a baking tray. Bake in the oven until lightly toasted.
Add half of the toasted buns into the double cream and let it infuse the flavours into the cream.
Leave the other half of the toasted bun mixture to cool.
Whisk the egg whites until you have stiff peaks.
Whisk in one tablespoon of the caster sugar at a time. Continue to whisk until the egg whites are stiff and glossy.
Strain the cream through a sieve and discard the bits of bun.
Whisk the cream in a separate bowl until you have soft peaks.
Fold the cream, egg yolks and toasted cool bun and chocolate chips into the meringue mixture until well combined.
Pour into a plastic container and freeze for at least two hours - at which point you can enjoy!
Carrot Cake
If Simnel cake and hot cross buns weren't enough, this carrot cake recipe from BBC Good Food will have your guests hopping with joy! Made with fresh grated carrots, warm spices and a creamy cream cheese frosting, this moist and flavourful cake is the perfect centrepiece for any Easter celebration.
Discover the full recipe here.
Share This
Related Posts