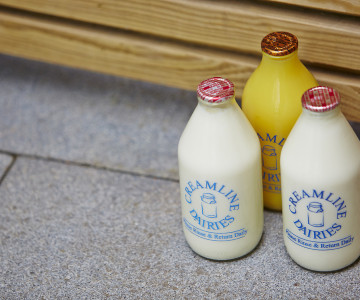 How having milk delivered helps support the farming industry
Why is milk cheaper than water? That is the question asked today on BBC Radio 2's Jeremy Vine show, which pointed out that a litre of milk costs less in the UK than the equivalent amount of water. 
Sit-in host Paddy O'Connell chaired the debate on the issue, which follows figures from the NFU that show a 50% drop in the number of dairy farmers in England and Wales over the past decade.
Despite this - which should arguably make the industry less competitive - milk prices paid to farmers are lower than at any time since 2007, dipping to as low as just 20p per litre for some farmers.
NFU dairy board chairman Rob Harrison said: "We keep hearing on social media how consumers want to help.
"They can back British dairy farmers by continuing to buy British milk, but also by buying more British cheese, yoghurt and butter."
Getting your milk delivered by Creamline is one way to support local dairy farmers, as we source all of our milk and milk products from local farms.   
We are committed to paying our farmers a fair and sustainable rate,  above the average paid by other dairy companies, for the milk they produce - ensuring you get good value today, but can still have milk delivered in the years to come too.
Did you hear the Radio 2 debate, or want to express your own views? Tweet us at @CreamlineDairy or follow Creamline Dairies on Facebook and Google+.
Share This
Related Posts