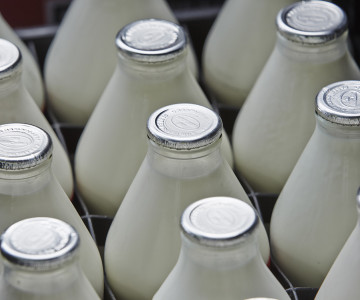 How can you recycle better this Global Recycling Day?
Global Recycling Day (18th March) is more important than ever with many individuals, organisations and governments taking direct action to combat climate change. Recycling, along with responsible consumption and production, has been recognised as one of the UN's Sustainable Development Goals for 2030. Put simply, recycling is one of the best ways you can help tackle climate change on an individual level!
Read on for our tips on how you can recycle more – and better!
Choose glass bottles, the original recyclable packaging!
If you're looking to reduce your plastic waste, switching to reusable and 100% recyclable glass milk bottles is one of the easiest ways to make an impact as an individual or household. Glass bottles are the original recyclable packaging after all!
Glass packaging has made a resurgence and for good reason: glass is the only form of packaging that can be recycled endlessly – and without loss in quality or purity! In the past year we've filled reusable glass bottles 21 million times, which is a lot of plastic our customers have saved from landfill by making an easy recycling choice.
If you've not already joined the glass revolution, there's no better time to switch out your plastics for glass-bottled milk, dairy-free Oato, fruit juices and flavoured milk than on Global Recycling Day! Order from Daily Essentials for free doorstep delivery.
How to recycle better: avoid the trap of wish cycling
This Global Recycling Day, we're also thinking about a less talked about issue: wish-cycling. If you've ever looked an empty tube of toothpaste or plastic cutlery and thought, "this is probably recyclable" and thrown it in your recycling bin, this is wish-cycling! Placing something in a recycling bin with the half-hope it will be recycled is a well-meant habit in an increasingly confusing world of recycling, but it can actually do more harm than good!
The introduction of non-recyclables such as plastic bags and film, straws and utensils throw a spanner in the works for recycling centres who must remove incorrect items by hand. Even worse, plastic bags can get wrapped around the cogs and damage equipment and endanger workers if they're not removed early in the recycling process. What's more, these items are then hauled to landfill for disposal!
How can you cut down on wish cycling?
You can avoid the main culprits of wish cycling with our easy tips! First, get familiar with the recyclables accepted by your local council. Print out your council's local guidelines and stick them next to your recycling bin for easy references. Take a look at Recycle for Greater Manchester's handy A-Z guide here. Contamination is also one of the main spanners in the works for recycling centres. Give your bottles and containers a good rinse to remove debris and avoid putting greasy, oily paper or soggy paper and plastic in your recycling bin.
Buying plastic-free is a great way to avoid this confusion completely. You'll find plenty of fresh fruit and veggies and more in our plastic-free aisle here.
Want to go one step further? Go plastic-free!
While environmentally friendly plastic-free milk is a top priority of ours, we're also passionate about helping you cut down plastic waste in the other food you consume – if you want to go beyond recycling and cut down on your overall waste, plastic-free is the way to go!
Sadly, in 2021, the UK recycled just 43.8% of plastic packaging waste. By shopping completely plastic-free – from veg to cheese and even sticky toffee pudding – you can cut down on your overall waste, without the need to recycle. If you spot our green Plastic Free Pledge icon, you can be confident that the products you're buying are 100% plastic-free.
Shop our plastic-free range here.
What's more, by going plastic-free, you can cut down on food waste at the same time. Go to our Food Waste Action blog to discover how plastic can fool you into buying more than you need – increasing your food waste and your weekly food bill!
Share This
Related Posts