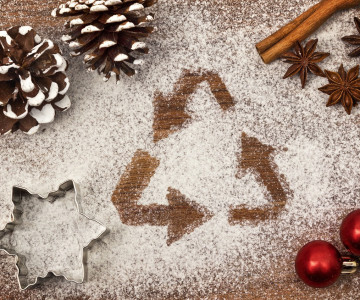 Have yourself a merry, greener Christmas
We're all about finding ways to be greener at Creamline, whether it's switching to glass bottled milk, choosing plastic-free packaging or using electric milk floats. At Christmas, it can feel a bit trickier though, especially when it comes to reducing food waste.
It's estimated that the equivalent of over 4 million Christmas dinners are thrown away every year, so with a view to having a greener Christmas, here are our top tips on reducing waste this festive season.
Get the turkey right
You may be shocked to hear that many of us chuck the turkey before it even reaches the dinner table. Fears over defrosting and cooking times can mean some of us lack confidence when it comes to the Christmas roast, but all it takes is careful timing. Allow 45 minutes per kilogram, plus 20 minutes for a turkey under 4.5kg – you can find the full guidelines here, and cooking guidelines will also accompany any turkey orders from our Best of Local range.
Once you've cooked your turkey to perfection, the leftovers can be just as delicious. And it doesn't have to be turkey sandwiches – try wraps, curries and even pho noodle soup!
Don't like sprouts?
Brussels sprouts can be a divisive choice; some love them, some hate them! But if the vast majority of your Christmas guests aren't keen on the veg, then there's no need to worry about giving them a miss. There are so many other vegetables you could serve up – or, you could try sprouts as an interesting side dish and mix up the recipe. We've got a delicious one here.
Recycle, recycle, recycle
If you've exhausted your recipes or some leftovers are past their best, recycle what you can't eat. Have a look for your local food waste recycling service, if you have one, or compost your unavoidable food waste.
You can browse our Christmas range here – don't forget your LoveLocal discount code! If you haven't used it yet, why not treat yourself to 50% off your Christmas Best of Local order?
Share This
Related Posts