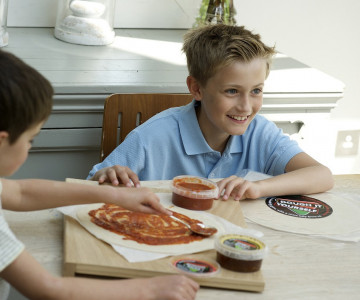 Grab a pizza the action this summer!
A brand-new addition to our Best of Local range, our Dough It Yourself pizza bases have been going down a treat! A great way to get the whole family involved in some dinnertime fun, the kits have been created using the finest authentic ingredients. With a whopping 49% of people in the UK eating pizza at least once a week, read on to find out more about the Italian dish – and we've got some recipe ideas too!
A cheesy history
We all know that pizza came from Italy, but it's a little-known fact that it was once a poor man's food! The doughy dish originated in Naples, in the 1700s, when poverty was rife. These busy working Neapolitans needed cheap food, that could be eaten quickly and easily, and so a flatbread with various toppings was created – in other words, pizza!
Legend has it that the famous Margherita pizza was created for Queen Margherita, back in 1889. Tired of haute cuisine, the Queen decided to try pizza for herself, and apparently favoured a combination of tomato, mozzarella and green basil; the colours of the Italian flag.
Pizza only remained well-known in Naples until around the 1940s, when Italian immigrants brought the dish to American shores, and the rest is history!
Dough It Yourself
Bringing authentic Italian ingredients to your table, there's no better way to create the famous pizza at home. With two kits to choose from, try Romana sauce, with plum tomatoes, onion, garlic and oregano, or the fiery Diablo sauce, with spices and olive oil. Get the kids stuck in and try some of these delicious topping combinations:
·        BBQ Chicken and Sweetcorn – a great way to get 5-a-day, this combo is ideal for summer barbecues.
·        Broccoli and Cheddar – something a little different, that will convert anyone into a broccoli lover!
·        Spicy pepperoni – try with peppers and onions for a healthy addition to this perennial favourite.
Buona fortuna!
Share This
Related Posts