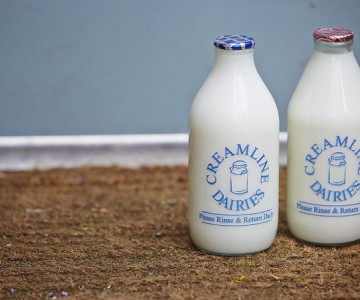 Getting milk delivered for Christmas
With just a few weeks left before the big day, time is running out if you're interested in getting milk delivered for Christmas - but it's still possible to arrange doorstep milk delivery for this festive season.
New customers just need to register and set up a payment method to start receiving orders - once your account is open, you can order up to 9pm for delivery the next morning.  Your spend allowance is limited to £15 per week until your payment method is confirmed (credit card is immediate), and will then increase to £25, but our minimum order size is just £3 per week, enough for about five pints of milk or two 2-litre bottles.
Alternatively, you can pre-fund your account with a credit or debit card to place larger orders - and obviously for wholesale milk delivery, our team can discuss a higher spend allowance.
Standard doorstep milk delivery days are Monday to Saturday, but when you sign up you can see if there any exceptions to this in your area.  At Christmas we will work hard to make sure your orders, including last minute ones, are fulfilled.
Christmas Day falls on a Thursday this year, so your last date to order milk for delivery on Christmas Eve will be Tuesday December 23rd by 9pm.  For existing customers, we will move any regular orders for Christmas, Boxing Day and New Year's Day back to the Tuesday/Wednesday before them, but please go on and check that this order is right for you and amend it as appropriate. 
If you're going to be pushed for fridge space, we'd recommend varying your order to receive more space-saving two-litre containers rather than one-pint glass bottle milk - you can do this online, and it really will fit more in over the festive period.
Share This
Related Posts