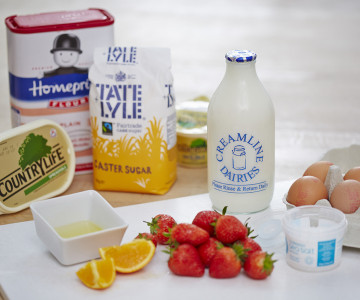 Why walk miles for milk when you can have local produce delivered?
There's nothing worse than running out of milk when the shops are shut, and having to drive or walk halfway across town to buy a bottle from somewhere that's still open. With home milk delivery there's no risk of that - and you can stock up on grocery essentials without leaving the house too.
 Let's face it, you can't get much more convenient than having everything you want brought directly to your door.At Creamline we have been a leading light in home milk delivery for decades, but you can also have local produce delivered from us too and if you order online before 9pm you can arrange for next day delivery.
 Take a look around our website to see all of the different grocery essentials we can supply, and if you see anything you need, simply add it to your order.For things you need a regular supply of, like single-portion cereals, you can set up a regular order so you never run short.But if you only want something as a one-off, you can easily vary your order too, by logging into the website and adding an instruction to your account.Order an extra pint of bottle milk, or some locally sourced food - it's up to you, and we will bring it to your door with your next delivery.
 It's not just convenient ordering home produce delivery in this way; it can also save you money, as you can choose only the items you really want, without impulse purchases or the urge to fill a shopping basket.
You save money on petrol too, as you don't have to drive to the shop to get what you need, and it's much faster changing your order online than going to the shops yourself. Our milk is always sourced from within a close radius of our dairy, and we opt for locally sourced food wherever possible too, so you're contributing to your local economy. And it's good for the environment too, as our vans can deliver to an entire neighbourhood of customers in a single journey, removing countless miles' worth of vehicle emissions from the atmosphere.
Share This
Related Posts